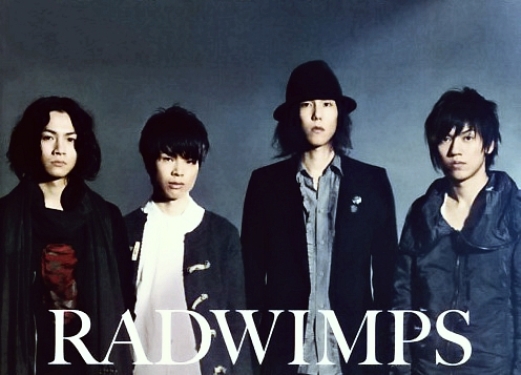 RADWIMPS ANNOUNCE INTERNATIONAL RELEASE DATES FOR SINGLE, ALBUM, AND FIRST EVER UK GIG
7th October 2015
BIG IN JAPAN, NOW OVER HERE:

Acclaimed and hugely popular Japanese band to play their first UK gig at O2 Academy Islington in October 2015
Big in Japan? Radwimps certainly are! For Japanese teenagers, this charismatic Japanese post-punk rock group are #1. Recently headlining at Summer Sonic in Toyko, Radwimps wowed 60,000 people. On tour, their spectacular shows regularly sell out huge stadiums (e.g. last year's 33-city nationwide tour of Japan, and their sold out Grand Prix tour of Asia).
Big in Cyberspace too: the band's YouTube channel has clocked up a massive 160 million hits, whilst their Twitter feed has attracted 310, 000 followers, keen to keep up with the activities and inspirational posts of their idols.
Radwimps are Yojiro Noda (vocals & guitar), Asia Kuwahara (guitar), Yusuke Takeda (Bass), and Satoshi Yamaguchi (Drums): all accomplished and acclaimed musicians. The band members met in 2001 as teenagers in Yokohama, through mutual friends and love of music Radwimps debuted independently in 2003, then signed to major label Toshiba in 2005. Commercial success came with their highly-acclaimed album Okazu no Gohan", which included the huge hit singles "Order Made" and "Dada" – both number ones on Japan's Oricon singles charts. To date, Radwimp have released 17 singles, 7 albums, and 4 DVDs, and built up a huge following amongst Japan's teenagers and rock fans.
On 25th September 2015, Toshiba EMI released Radwimps' single JikkyoChuuke in the UK. Yojiro took five years to write and create this song (a powerful story about Buddha and God fighting each other).
The single will be followed by the EU release of the 15 track album 'Batsu To Maru To Tsumi To' on 16 October 2015. Originally released in 2013, the hit album is now being released internationally, accompanied by the band's first appearances in Europe. As part of the EU tour, the UK is about to get its first-ever, first-hand taste of Radwimps' magic: poetic lyrics, dynamic music, stadium-wowing showmanship, & the highly-acclaimed musicianship of band themselves, live at the O2 Academy, Islington on Monday 19th October, 2015. This UK debut forms part of Radwimps' 10th Anniversary Asian and European tour (celebrating a decade together) and the gig promises to be an inspiring feast for the eyes and ears, and for the heart and mind: Radwimps weave thought, meaning, and feeling into their lyrics. Vocalist Yojiro Noda bases his lyrics on personal experience or actual events, and crafts each word with scrupulous attention to detail and story that has been compared to Paul Simon and Eminem.
The band were particularly moved by the 2011 Tohoku earthquake, and recorded an exclusive track every year to remember the earthquake, and donated the proceeds from their YouTube to the Japanese Earthquake disaster fund.
RADWIMPS 2015 Asia-Europe Live Tour Oct. 2015
Oct 9th (Fri) AX-KOREA / Seoul, Korea
Oct 13th (Tue) Le Trabenddo / Paris, France
Oct 15th (Thu) Stollwerk / Cologne, Germany
Oct 17th (Sat) C-Club / Berlin. Germany
Oct 19th (Mon) Islington Academy/ London, UK
Oct 23rd (Fri) ATT SHOW BOX / Taipei, Taiwan
ENDS
Facebook: https://www.facebook.com/radwimps.official?fref=ts
Website: http://www.radwimps.jp/
Twitter: https://twitter.com/radwimps