Reverence – Gods of War CD Review
22nd December 2015
0
By
Fraser
Much of my musical consumption this year has been of the gore-ridden, blast beat driven, Satan worshipping variety – my beloved death metal. However, one of the best things to happen to me in the last month or so is I have renewed my love of power metal: the huge, swooping choruses, the fantasy-inspired lyrics, the fast, thrashy at times riffing. I adore death metal, in all its varieties, but shit yes do I love a little bit of power metal as well. And what slice of power metal has been stirring my heart and making my sword hand itch of late? Well that would be Gods of War, the newest offering by Reverence. Swapping the normally obligatory cheese for a bit more grit and a rougher edge, Reverence lean more towards the classic stylings of Accept and Dio than the cheesy, though still fantastic, sounds of Dragonforce and Hammerfall. A brilliant mix of traditional heavy metal and power metal, they have a sound you will love from the first listen.
Opening with the sounds of gunfire and some ominous guitar work, Gods of War kicks off with its title track. With vocals that sound like they've been ripped straight from 1986 and guitars that flirt with both the classic power metal sound and a thrash metal edge, Gods of War builds to a supremely catchy chorus and an utterly jaw dropping guitar solo. Refusing to take their foot from the pedal, Reverence dive straight into Heart of Gold, a track that feels reminiscent to me of classic Dio. Four minutes of pure power metal with a heavy NWOBHM influence, complete with another shreddy guitar solo, Heart of Gold has that feel to it that'll make your heart soar and your lighter sway.

Until My Dying Breath is next up, and if it wasn't for the crystal clear production I would have sworn this was recorded in the early '80s, when the New Wave of British Heavy Metal was in full swing. A heavy metal anthem if ever there was one, this is probably the most accessible track on the album. This time, however, the guitar solo takes a step away from the face-melting shred and goes into a slightly more blues influenced territory – the whole track just has an absolutely massive sound to it (with audible bass, what a beautiful thing to behold!). Reverence then fly straight into Angel in Black – a song that immediately has a much darker feel to it with the stunning vocals taking centre stage. Far more melodic than what we've seen so far, Angel In Black is a perfect change in pace, but do not take the melody and darkness to mean soft, it is still as heavy as they come and it still shows off the incredible chops of guitarists Bryan Holland and Pete Rossi. It may be the pinch harmonics in the lead riff, but the immediate comparison I would draw here is Steel Dragon, the fictional band from the brilliant movie Rockstar.

Next up is Tear Down the Mountain, which lulls you into the false sense of an oncoming ballad from the opening guitars – fear not, this is brief and that ballad is yet to come. When it steps up we have yet another huge example of riff and vocal driven heavy fucking metal. At this point in the album, you have a pretty good idea of what Reverence are offering up to you – riff-tastic anthems with one foot placed firmly in the super melodic, super-fast power metal, the other stamped into the camp of the classic sound of traditional heavy metal – and Tear Down the Mountain does not disappoint. Blood of Heroes starts with a thrashy riff before jumping into the more melodic territory we saw on Angel in Black. An absolute massive chorus and another blinding guitar solo completes track number six! Right from the start of Battle Cry you know your neck is about to hurt – taking a more thrashy tone with the guitar and drum work, Battle Cry could have been on the newest Accept album. The vocals on the whole are much higher pitched, adding some variety to what we've heard so far – but the chorus, that is a stadium-filler for sure. The solo work here is absolutely top notch, as one would expect.
Things take a slower, groovier turn for Choices Made – if your neck is still functional at this point, it won't be for long. Slower, yet still heavy, Choices Made features some excellently placed double bass work in the otherwise massively catchy chorus. Taken as a whole, it is one of the best tracks on the album for sure! The obligatory power ballad comes in the form of Splinter, opening with some bluesy guitar work and allowing Todd Michael Hall to command your attention here. A beautiful break from the carnage with one of the best guitar solos on the album, it gives you a moment to catch your breath while it breaks your heart.
However, you better make than moment count, because despite the ominous intro, Cleansed By Fire grabs you by the balls and drags you straight back into the heavy, shreddy goodness. Slapping down some good old fashioned traditional riffing and those huge vocals, and throwing in another couple of outstanding solos for good measure, Cleansed By Fire builds up the pace just enough for album closer Race to Obscene. A thrashy riff kicks off the last track while that lead guitar burns through some classic licks before the vocals kick in. About the midway point there is a meaty breakdown which leads into some more shred work, followed by beautiful harmonised leads which drive the song, and the album, to its climax.
Gods of War is a mammoth album, packed with balls to the wall heavy fucking metal. The songs do feel a little formulaic in composition, but this is a minor complaint – the album is 100% a must have for any metal fan. Reverence have taken the high expectation from their debut, When Darkness Calls, and they have blown them out of the water.
9/10

ALBUM INFO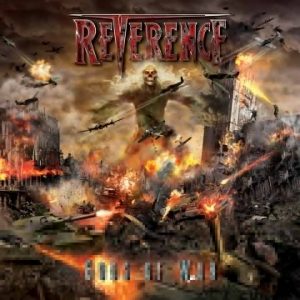 Track List:
1. Gods of War
2. Heart of Gold
3. Until My Dying Breath
4. Angel in Black
5. Tear Down the Mountain
6. Blood of Heroes
7. Battle Cry
8. Choices Made
9. Splinter
10. Cleansed By Fire
11. Race To Obscene
Release Date:
4th November 2015
Record Label:
Razar Ice Records
For fans of…
Dio, Accept, Hammerfall
How useful was this post?
Click on a thumb to rate it!
Average rating 0 / 5. Vote count: 0
No votes so far! Be the first to rate this post.
Related
About the author
This bearded wildman from North of the wall survives the harsh ever-present winter of Scotland on a healthy diet of thrash, death metal and beer.