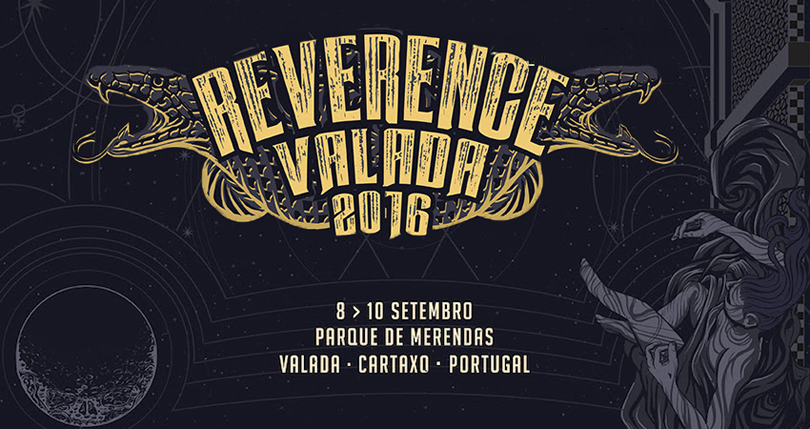 Reverence Valada 2016
24th October 2016
And again came Reverence Valada with the same friendly people, the same riverside spot, the same trees – the usual summer home for the flying. Focusing on psych rock, shoegaze and whatever might orbit around them, the festival landed for a third time by the Tagus River, bringing the desert onto the oasis between September 8 and 10.
The adjacent village of Valada still holds up as one of the festival's greatest advantages, be it because of the numerous coffee shops, the tiny markets, the friendly villagers or simply the countless corners, benches and stairs throughout the few streets where you could rest or even nap. The drive to join together the visitors and local residents was again noticeable, as it's become clear that things as little as friendly interactions benefit a whole setting – by God, Nick Allport himself was giving rides from the not so nearby train station to Valada even before shuttle buses were available.
However, the appreciation of little things doesn't stop at social interaction or benches. Reverence Valada has clearly become a festival that takes care in gathering and promoting small, competent and diverse acts. Although it's indisputable that every year big respectable names are brought in (let us not forget Hawkwind, Electric Wizard, Sleep and Amon Düül II, just to mention a few), it's also undeniable that there's great pleasure in watching and discovering a dozen bands in one breezy afternoon, and the process behind selecting and assigning those acts is getting sharper by the year.
The stages' area and distribution suffered quite a change. There were now two main stages, Rio and Sontronics, and a smaller one, Indiegente (curated by established radio personality Nuno Calado). The main stages were significantly smaller, but they proved to be able to hold everyone comfortably and cut the big time gaps in between headliners. Additionally, the Indiegente stage was put nicely under some trees, which turned out to be a rather appropriate spot for its assorted and overall fun selection. As usual, the camping grounds were vast and comfortable, with a lot of tree shade to go around. However, there was a longer path left between the camping area and the stages, including a sun-burnt passage with a handful of little shops. I was personally eager to revisit the memorable yellow and orange ornaments, and so I have to admit that I was a tad disappointed with their absence, but the few people I talked to about it did not mind it too deeply. Apart from that, I can only complain about the too few portable toilets yet again.
There was some confusion surrounding the time and stage assigned to each band and even what acts would be present, given that the handed out schedules carried info that was different from the festival's website and posters. Be that as it may, punctuality still seemed like a priority.
It is clear that Reverence Valada has been widening its audience and gaining exposure, but I'm still under the impression that there were fewer people in the festival in comparison to previous editions. However, one must wonder to what extent did Killing Joke's cancelation have an impact, given it was announced only four days in advance.
Cutting to the first day, its program was a rather rich one for a Thursday. It was also quite a professional demonstration of Portuguese acts: 800 Gondomar (PT) and The Sunflowers (PT) exhaled a raw display of garage and/or surf-infused youth, with the welcomed tomfoolery that comes with it; on the other hand, Sun Mammuth (PT) and Riding Pânico (PT) provided for a contemplative experience that may be quintessential to the festival, the one that sends a heavy bass vibrating away on the grass. Even if J.C. Satàn (FR) could be more or less defined by garage and psych standards, the truth is they came out sounding quite scattered; maybe in this context their divergent creations didn't work in their favor. As for technical excellence, you really had to be there for Blaak Heat (USA/FR). Their live quality, remarkably similar to their studio versions, made for a sharp and contagious performance of psych rock with a touch of prog that cemented and definitely enlarged their fan base. However, Thee Oh Sees (USA) were the first to really get the dust onto your teeth, showing that incorporating two drummers in a psych/garage rock setting also pays off live. One could question if they were too big of an act to slot in the first day, but then again, maybe they're now defining the program of a first day after all.
On Friday, a particularly hot day, the impressively young and quite technically good Ossos de Ouvido (PT) opened the afternoon with a jazz side that isn't very usual in Reverence Valada. With a healthy dose of bluesy rock, Twin Transistors (PT) made way for a recurrent Southern theme throughout the afternoon and evening; later in the same stage you could witness it with a hint of garage perversion with The Dirty Coal Train (PT), energetic and explosive as always. Still in Indiegente, a few hours later lept up the quirky Fast Eddie Nelson (PT), second-time performers at Reverence Valada, who again carried around their charisma and southern screw-you charm to the purest rock'n'roll act so far – including a more than consistent collaboration with two members of The Dirty Coal Train. Back on the other stages, The Black Wizards (PT) came with a much appreciated '70s-riffs-ridled stoner fuzz display, though a static one, and Miss Lava (PT) did not make an exception to their history of delivering good shows with the support of their aggressive sped-up dirty bass. For a sunnier approach to psych, LSD & the Search for God (USA) assembled some clean and submissive vocals with a sort of customary shoegaze. The kraut, raw but dronish Pigs Pigs Pigs Pigs Pigs Pigs Pigs (UK) delivered an aggressive performance to a rather large audience, despite the blazing sun. In a similar road, and sounding British as hell, Fat White Family (UK) have a distinctive twisted punk-fueled ear-scratching language and a total awareness of showmanship, which put together made for a heck of an electrifying concert.
As for Silver Apples (USA), now sadly a one-man psych band and certainly an influence for many others at the same festival, got a lot of people excited at the ubiquitously rave-like weirdness, still sample-rich as always. The lords of desert stoner Yawning Man (USA) are the kind of act I believe I would enjoy greatly during the day, but less at night – simmering it down to the definition of "desert", I guess. Correia (PT) brought yet again the Southern tones, although their metalcore influences may have thrown them a little out of Reverence Valada's spectrum. Long run stoners Dead Meadow (USA) gave a consistently heavy albeit clean performance to a very engaged audience, but the melancholic doowoopy variant of The Raveonettes (DK) was noticeably much appreciated – I found last year's program to be way repetitive, and this kind of integration shows that you can focus on a handful of genres and still carry some diversity. Overall it was a good concert, with no major speedbumps.
After Joel Gion & Guests performed last year at this same festival, Joel Gion was back with the as complete as possible and eagerly anticipated The Brian Jonestown Massacre (UK). Although facing a rather large crowd (not as large as I expected, but the size test would not fully come up until The Sisters of Mercy), the show was rather low on energy; maybe one would be happy to see some legends regardless, but then again an absence of irreverence was somewhat disappointing.
On the third day, with yet the finest selection of Portuguese bands, Moloch's (PT) sharp desert-sounding performance came with a distinct and delightful poetic twistness, followed by an act that was for me one of the festival's big surprises – La Chanson Noire (PT), a dark cabaret happening and the perfect example that Reverence Valada is definitely a good place for smaller bands to be heard. The woodstockian vision of Øresund Space Collective (DK/SW/USA) built a comfortable spaced out environment that I'm sure everyone was familiar with, and together with Papir's (DK) bright and gladly vibrant performance, it reinforced that the traditional established foundations of Reverence Valada will rarely get old (and kudos to the fellow rocking away to Øresund Space Collective while enjoying some ice cream – you assured me I chose the right planet to be at). Phantom Vision (PT) were more dramatically looking than sounding, not really taking all possible benefit of their dark wave tendencies, but I give it to them for graciously and humorously scorning of several technical issues.  Steak (UK) could have benefited from a heavier foot to go with their creative psych/fuzz muscle, but they still got to attract a respectable and interested crowd. Nicotine's Orchestra (PT) presented an undeniably professional, clean and pleasant show, with an Americana scent that went very well with the ever-present dry grass and sand. The more than complex shoegazers The Veldt (USA) got to debut in Europe with a very competent performance that gathered a lot of certainly long due love. The Cult of Dom Keller (UK) went well with the now falling twilight with their heavy psych, while at the same time using their vocals to reminisce and introduce the headliners The Sisters of Mercy. Névoa (PT) came to fill the slot that The Quartet of Whoa! left after the latter replaced Killing Joke, and although not a bad experience, their black metal was undeniably ill-fit – but no one can complain about a band scheduled just four days in advance. Even though largely less prominent than Killing Joke, the bass-fueled The Quartet of Whoa! (PT) gave us a concert to appreciate: energetic, enthusiastic and with the kind of thrill that comes with prog and heavy put together, they are ever establishing themselves as a live act that keeps on giving.
Mecanosphere (PT) got Adolfo Luxúria Canibal in Reverence Valada for the second time and with a second project, and once again we got a perverse, guttural, bizarre answer (rather in theme than in sound) for the first visible large crowd of the day. After Hawkwind had brought a committed audience in 2014, the particularly responsive Nik Turner's New Space Ritual (UK) weren't at all left behind. It was obvious from the beginning that Hawkwind classics would never get a drop of indifference, but Miss Angel's complementary dance and far out costumes were on the verge of stealing the show. It sounded amazing, especially when considering the pressure that's so commonly put on legendary tunes. On another stage, introducing with timeless classics, spinning a few covers, never sparing the antics, The Damned (UK) managed to buy punk a perpetual ticket to Reverence Valada. Even though they gathered just a pinch of eclecticism through the years, the legends guaranteed an earthquake of a concert.
It was only with goth kings The Sisters of Mercy (UK) that a larger stage might have been missed, given the amount of people that were present even before they started playing. Maybe the dramatic smoke was a tad excessive – I could not get a glimpse of the drummer – and I don't think I would ever define this show it as flavorful or inviting, but the audience seemed quite happy with it.
With the Dead (UK) were definitely one of the heavier bets of the whole weekend and they dragged their piercing stoner doom to a full horde of stompers, even if I wouldn't present them with same ticket privilege as The Damned. The instrumental, fuzzy, obviously space-evocative Radar Men From the Moon (NL), as well as the desert-inspired Earth Drive (PT), were quite comfortable acts, but a special mention should go to Mars Red Sky (FR) who, after a rather shy performance by the river in 2014, attracted a lot of people to the stage and behaved accordingly this year. They seem to have grown into a band rather distinct and self-assured, with a special skill in casting luminous vocals into darkened music. As part of the Reverence Sunrise Sessions, Summer of Hate & Guests (PT) closed the festival with a slow shoegaze with distinct Alcestian details, and seemed determined to keep the festivities going as long as they could in the most informal possible way.
Even though Reverence Valada suffered a few unfortunate slides, it's still ultimately the same festival: a pleasant ground for discovery and enjoyment of music, inside its own forest, with contributions from psych, rock, shoegaze, punk what whatever friends of those genres are invited. It gathers all conditions to become a long-standing festival, not only to serve a musical niche, but to provide an experience not to miss in a galactic haven.