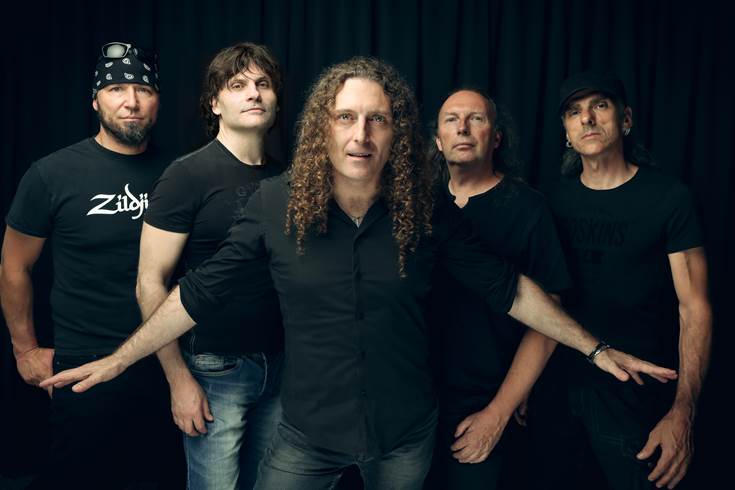 RHAPSODY announce BEAST IN BLACK as main support on their '20th Anniversary Farewell EUROPE Tour'!
5th December 2017


Italian symphonic metal legends RHAPSODY are currently touring the globe with their '20th Anniversary Farewell Tour'. In February/March they'll finally enter European club stages, which will include a show at London's Islington Academy! Today, the band can reveal two support bands for this upcoming journey: opening will be Romanian metal outfit SCARLET AURA. Direct support will come from no less than up and coming heavy metallers and label mates BEAST IN BLACK, presenting their recently released debut album 'Berserker'. This package is definitely not to be missed!
BEAST IN BLACK comment: "We can't tell how honoured we are for getting the chance to participate in RHAPSODY's '20th Anniversary Farewell Tour'! They are the pioneers of symphonic power metal and influenced a whole generation. It's going to be a great adventure for us supporting them!"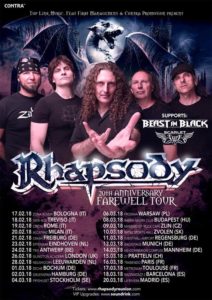 RHAPSODY
'20th Anniversary Farewell Tour' – Europe
17.02. Bologna – Zona Roveri (IT)
18.02. Treviso – New Age (IT)
19.02. Rome – Orion (IT)
20.02. Milan – Alcatraz (IT)
21.02. Freiburg – Crash (DE)
23.02. Eindhoven – Effenaar (NL)
24.02. Antwerp – Trix (BE)
26.02. London – Islington Academy (UK)
28.02. Leeuwarden – Neushoorn (NL)
01.03. Bochum – Zeche (DE)
02.03. Hamburg – Grünspan (DE)
04.03. Stockholm – Fryshuset (SE)
06.03. Warsaw – Proxima (PL)
08.03. Budapest – Barba Negra Club (HU)
09.03. Zlín – Masters of Rock Café (CZ)
10.03. Zvolen – Rates Sports Hall (SK)
11.03. Regensburg-Obertraubling – Eventhall Airport (DE)
13.03. Munich – Backstage (DE)
14.03 Mannheim – MS Connexion Complex (DE)
15.03. Pratteln – Z7 (CH)
16.03. Paris – Trabendo (FR)
17.03. Toulouse – Metronum (FR)
18.03. Barcelona – Razzmatazz 2 (ES)
20.03. Madrid – La Riviera (ES)
Tickets are available to purchase now from: www.rhapsodyreunion.com/tour and VIP upgrades are available from: www.soundrink.com
More RHAPSODY dates:
'20th Anniversary Farewell Tour' – Latin America Leg 2
07.01. São Paulo – Tom Brasil (BR)
08.01. Asunción – Teatro Guaraní (PY)
10.01. Salta – Teatro del Huerto (AR)
11.01. Buenos Aires – Groove (AR)
13.01.  La Paz – Teatro Al Aire Libre (BO)
14.01. Lima – Teatro de la Uni (PE)
16.01. Santiago – Teatro Caupolican (CL)
18.01. San Salvador – Cifco (SV)
19.01. Tegucigalpa – Hotel Marriott (HN)
20.01. San Jose – Pepper Club (CA)
21.01. Bogotá – Metal Millenium (CO)
23.01. Medellín – Teatro Universidad de Medellin (CO)
24.01.  Cali – Teatro Jorge Isaacs (CO)
26.01. Chihuahua – Expo Chihuahua (MX)
27.01. Monterrey – Café Iguana (MX)
28.01. Merida – TBA (MX)
30.01. Mexico City – Circo Volador (MX)
01. – 05.02. Miami/Ft. Lauderdale, FL – 70000 Tons of Metal (US)

Currently, RHAPSODY consists of Fabio Lione (vocals), Luca Turilli (guitars), Dominique Leurquin (guitars), Patrice Guers (bass) and Alex Holzwarth (drums).
RHAPSODY recently performed at European festivals such as Graspop Metal Meeting (Belgium), Sweden Rock and Leyendas del Rock (Spain), presenting a set list full of classics such as 'Emerald Sword', 'Land Of Immortals', 'Dawn Of Victory', 'Lamento Eroico', 'Holy Thunderforce' and many more.
RHAPSODY's influences include the most epic orchestral soundtracks, classical composers such as Vivaldi, Bach, Beethoven, Paganini, renaissance and folk music. These elements combined have made RHAPSODY a unique band in the metal world and, thanks to their magic, brought together many fans around the world and inspired many other bands.