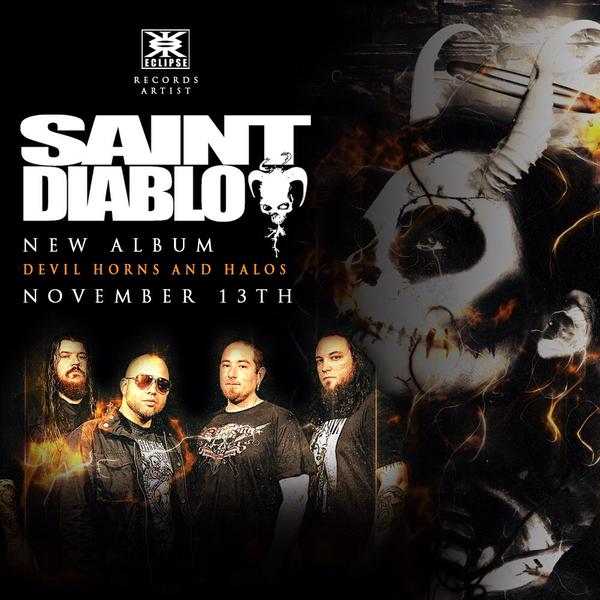 Saint Diablo – Devil Horns and Halos – CD Review
2nd October 2015
Saint Diablo are described as "nu metal with Latino influences". Depending on what you think of musical pigeonholing, this could either be a very good or a very bad thing.
Devil Horns and Halos opens with the title track and it's underpinned by an incredibly heavy riff that will make your ribcage rattle. There's nothing remotely nu metal about it.
There are shouty parts that have a more old school sound – perhaps how Sepultura could have been if Max Cavalera hadn't quit – and there are melodic parts, but this is no Limp Bizkit-style album in any way.
The record continues with the same heaviness and appears to be a masterclass in tuning instruments as low as possible for a really doomy sound.
The first real "Latino" aspect is apparent on Dark Horse, and that is only that some of the lyrics are in Spanish. There's not a Mariachi band in sight.
Last Fight and My Time continue the vibe of uber-heaviness, but it starts to feel like Saint Diablo are running out of steam and just rehashing the same theme over and over.
Devil Horns and Halos isn't a bad album, it just gets a little repetitive. It's perhaps best not to listen to it all in one sitting and instead drip-feed yourself a track every hour or so.
Score: 6/10
Full track listing:
1) Devil Horns and Halos
2) Survive This
3) Meet My Maker
4) Dark Horse
6) Ancient Astronauts
7) Last Fight
8) My Time
9) Adios En-amigos
10) Reincarnation
Release date: 13th November
Label: Eclipse Records