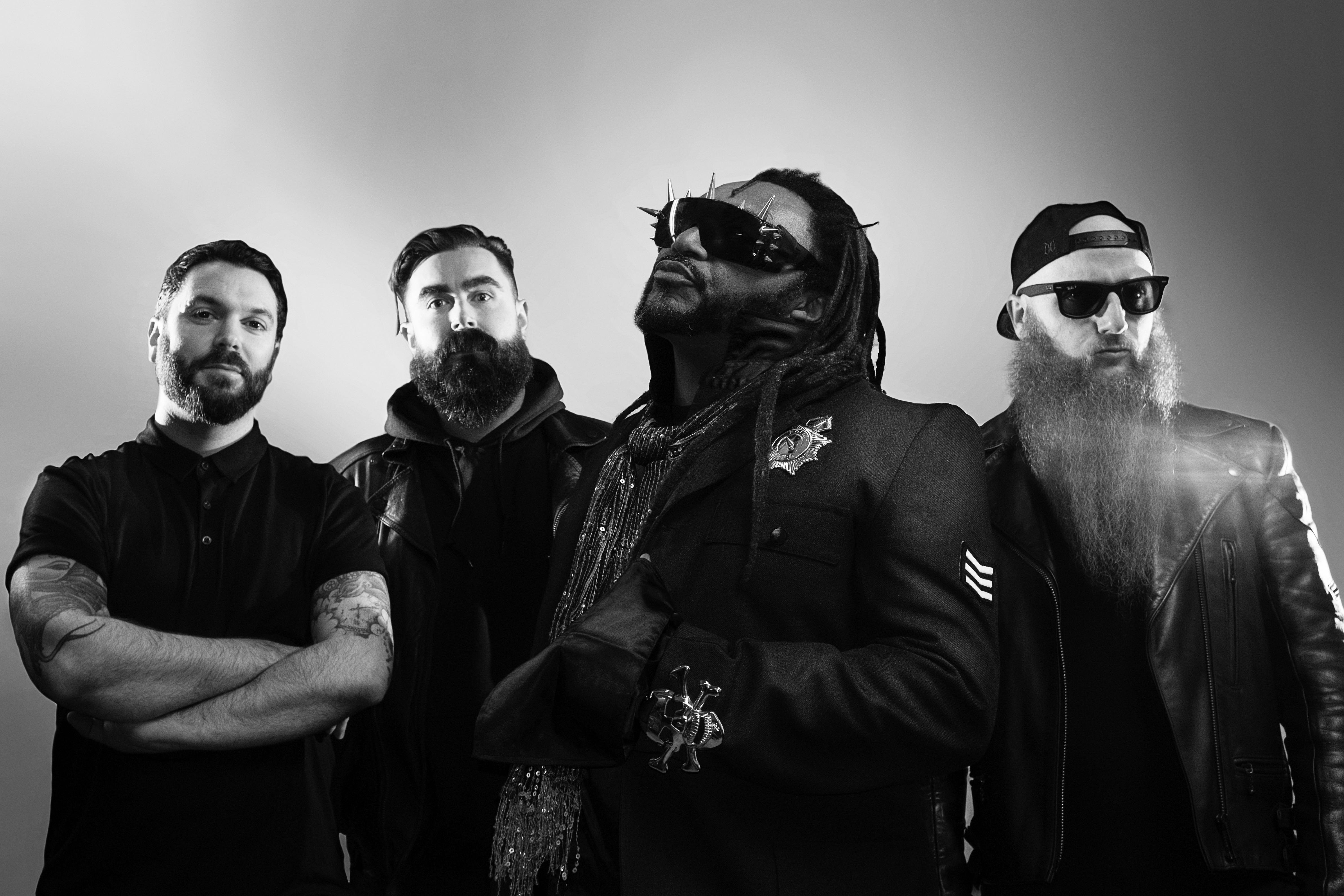 Skindred Announce 28 support bands for Winter tour
19th October 2018
Skindred are pleased to announce 28 support acts for their already extended UK Winter tour as they look to support local venues and new and emerging talent.
Skindred Drummer Arya Goggin said "It is  hugely important to us as a band to support new and emerging bands and talent across the Country. This is something we always try and do. This tour was already about playing a more extensive run of shows than we usually do,  and trying to play in towns that do not get as many bigger bands playing in them. Supporting local venues is hugely important to us as they need to be kept alive .To us this also goes hand in hand with us supporting new and emerging talent in these towns wherever possible. It's a huge part of our ethos as a band, so we could not be more excited to be taking out some amazing up and coming bands on this run, as well as having a brilliant selection of acts performing with us locally on these shows.
We have mixed it up a lot and between ourselves, have taken a lot of time to source a great selection of bands"
Support acts announced across the tour include; Bleed From Within,  Sonic Boom Six, Jayce Lewis,  Black Futures,  Aaran Buchanan & The Cult Classics,  Those Damn Crows, Departed,  Chapter and Verse, The Dissident Youth , Tomorrow is Lost,  Ray Brower, Silvertown,  I Saw the World Burn, Stone Angels,  Asteroid Boys,  Mr Shiraz,  Bastard Sons,  Feed Them to the Forest, XIII,  Three Day Millionaires IDestroy, The Wax Lyrical Sound, Tigress, Desert Storm and  SKAM
For more information on Skindred and a full listing of their upcoming dates go to www.skindred.net or got to www.facebook.com/skindredofficial
THAT'S MY JAM /UK TOUR 2018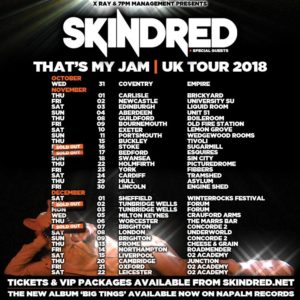 OCTOBER 
31 Oct: Coventry, Empire
NOVEMBER 
01 Nov: Carlisle, Brickyard
02 Nov: Newcastle, University SU
03 Nov: Edinburgh, Liquid Room
04 Nov: Aberdeen, Unit 51
08 Nov: Guildford, Boileroom (SOLD OUT)
09 Nov: Bournemouth, Old Fire Station
10 Nov: Exeter, Lemon Grove
11 Nov: Portsmouth, Wedgewood Rooms
15 Nov: Buckley, Tivoli
16 Nov: Stoke, Sugarmill (SOLD OUT)
17 Nov: Bedford, Esquires (SOLD OUT)
18 Nov: Swansea, Sin City
22 Nov: Holmfirth, Picturedrome
23 Nov: York, Fibbers
24 Nov: Cardiff, Tramshed
29 Nov: Hull, Asylum
30 Nov: Lincoln, Engine Shed
DECEMBER
01 Dec: Sheffield, Winterrocks Festival
02 Dec: Tunbridge Wells, Forum(SOLD OUT)
03 Dec: Tunbridge Wells, Forum
05 Dec: Milton Keynes, Crawford Arms (SOLD OUT)
06 Dec: Worcester, The Marrs Bar (SOLD OUT)
07 Dec: Brighton, Concorde 2 (SOLD OUT)
08 Dec: London, Underworld (SOLD OUT)
09 Dec: Brighton, Concorde 2
13 Dec: Frome, Cheese & Grain
14 Dec: Northampton, Road mender
15 Dec: Liverpool, O2 Academy
20 Dec: Cambridge, Junction
21 Dec: Oxford, O2 Academy
22 Dec: Leicester, O2 Academy
How useful was this post?
Click on a thumb to rate it!
Average rating / 5. Vote count: