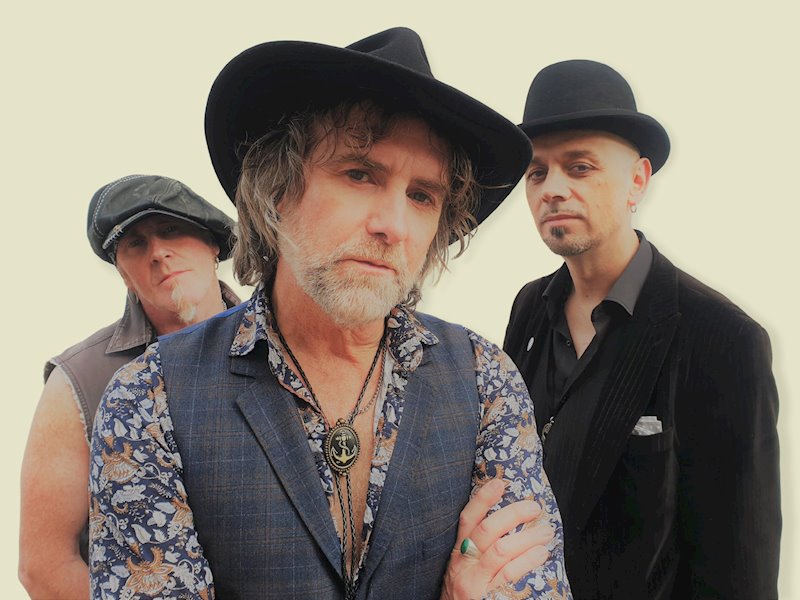 Slyder Smith & the Oblivion Kids Electric Boys Tour Together
24th June 2022
Slyder Smith & the Oblivion Kids will release their debut album, 'Charm Offensive', ahead of a uk tour as special guests to groove rockers Electric Boys this August.
Produced by Pete Brown (George Harrison, Siouxsie & the Banshees, Marc Almond, The Smiths, Sam Brown), 'Charm Offensive' is a chocolate box of sonic melodic rock sensations with diverse pop smarts that offers up a little something for everyone.
Watch 'When The Rain Comes' (official music video): https://youtu.be/_Scb2DPlnGI
Slyder Smith first swaggered onto the stage as lead guitarist with glam-tinged power popsters, Last Great Dreamers. After releasing four studio albums and one live album on Ray Records, Slyder has toured extensively throughout the UK & Europe with LGD headline shows and special guest slots to The Quireboys, The Wildhearts, Terrorvision, The Darkness, Enuff ZNuff, and more. 
Slyder now takes centre stage leading his new power trio, Slyder Smith & The Oblivion Kids (featuring Tim Emery on bass and drummer Rik Pratt) in an honest outpouring of grit, glamour and emotion.
Track listing:
1. El Encantador
2. Calico Queen
3. I'm Done
4. When The Rain Comes
5. Crash Landing In Teenage Heaven
6. I Don't Want To Run
7. Maya
8. Pleasure Victim
9. Road Love
10. Hope Without Warning
11. NeverEnding Story
12. Oblivion Kids
13. El Encantador (Reprise)
14. No More Mr. Bad Guy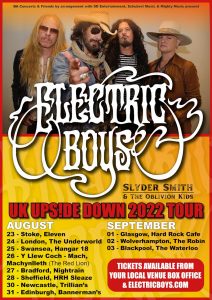 Tour dates:
2nd May – HRH Ibiza Road Trip
3rd July – LONDON – Power Pop Weekender
23rd Aug – STOKE – Eleven (w/ Electric Boys)
24th Aug – LONDON – The Underworld (w/ Electric Boys)
25th Aug – SWANSEA – Hangar 18 (w/ Electric Boys)
26th Aug – Y LLEW COCH – Mach, Machynlleth (w/ Electric Boys)
27th Aug – BRADFORD – Nightrain (w/ Electric Boys)
28th Aug – SHEFFIELD – HRH Sleaze
30th Aug – NEWCASTLE – Trillians (w/ Electric Boys)
31st Aug – EDINBURGH – Bannermans (w/ Electric Boys)
1st Sept – GLASGOW, Hard Rock Cafe (w/ Electric Boys)
2nd Sept – WOLVERHAMPTON, The Robin (w/ Electric Boys)
3rd Sept – BLACKPOOL, The Waterloo (w/ Electric Boys)
Slyder Smith & The Oblivion Kids are:
Vocals & Guitar – Slyder Smith
Bass – Tim Emery 
Drums – Rik Pratt
Connect with Slyder Smith & The Oblivion Kids:
. Official website: https://www.slydersmith.com
. Instagram: https://www.instagram.com/slyder_smith
. YouTube: https://www.youtube.com/channel/UCRJya7QcdImW-Y2OUS0StfQ
. Twitter: https://www.twitter.com/SlyderSmith