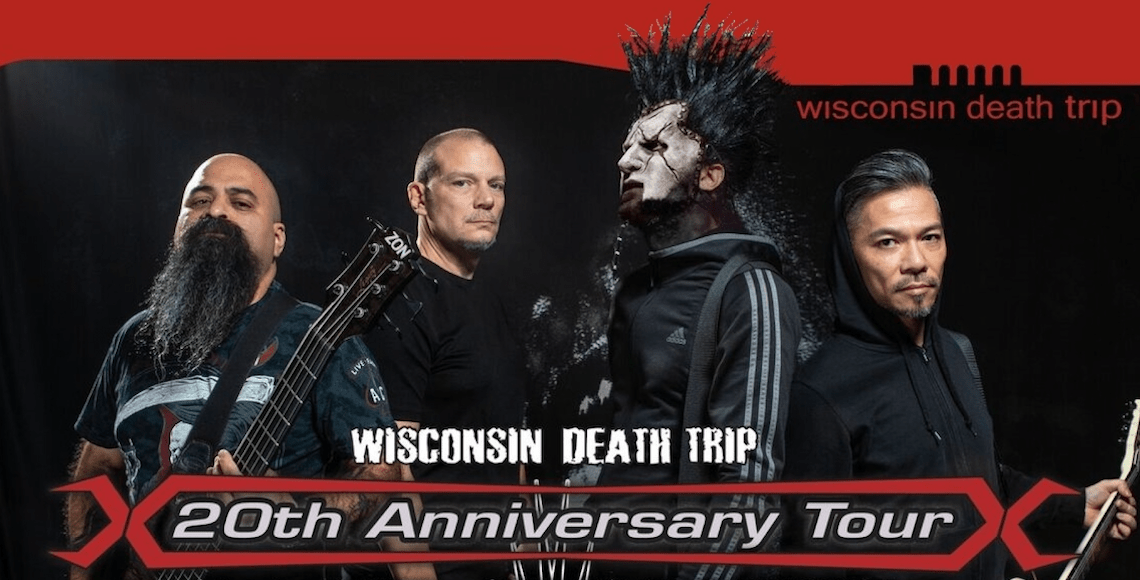 Static-X – Tramshed, Cardiff (25/9/19)
4th October 2019
There are sadly, in total, too many to mention in this particular instance, but over recent years, we've all lost some truly remarkable, talented and loved artists from all aspects of music culture. This year we prematurely lost Keith Flint of THE PRODIGY for example…last year we lost AVICII far too early, and how could we not mention Chester Bennington?  Though while these are all practically household names in most popular music scenes, there are still those that deserve more recognition…
Back in 2014 the world lost Wayne Static; the charismatic and louder than life front-man of Los Angeles industrial nu-metal mob STATIC-X. Iconic with his insanely big hair and jarring vocal patterns, he was one of the most recognisable names in alternative music circles in the early 2000's, but he's not someone the mainstream would have been AS familiar with. Luckily, rock and metal can be a very supportive community, so it's no surprise that 2019 see's Static-X embark on a special, commemorative tour, celebrating not only Wayne's life and legacy, but also the 20th anniversary of their debut album; "Wisconsin Death Trip"…All About The Rock was in attendance as the tour pulled into Cardiff, so let's see what took place at the Tramshed.
There are four bands playing tonight, and our opening act are DOPE [7] in more than just name. The New York heavy industrialized rockers are also celebrating twenty years since their own debut "Felons And Revolutionaries" was released, though it's hard to believe this is only the second time Edsel and co have been around the UK! With a short but sweet set, we're treated to a select few cuts that manage to span their back catalog in such brief time…from classics such as "Debonaire", through "Die Mother Fucker Die" and "6-6-Sick", before they round things off with a wonderful rendition of DEAD OR ALIVE's "You Spin Me Round (Like A Record)" which really gets the early punters bouncing. There's just enough time for some reminiscing, as there are beers raised in memory of Wayne Static, and overall, as far as opening acts go, you couldn't ask for more. Well, we could…like…play here more often you motherfuckers!
Next up then we have WEDNESDAY 13 [6] who is in full business mode tonight it would seem…and really not feeling all that nostalgic. With his brand new album "Necrophaze" due out virtually days after this show, be sure as hell he plugged some new material! Opening with the title track, as well as including "ZODIAC" and "Decompose", it's all for promotion here, but the majority of his set generally really only focuses on his more recent albums such as "Condolences" and "Monsters Of The Universe…", there's hardly any classic Wednesday here and he definitely skipped out on some sing-along favorites. We are treated to ONE FRANKENSTEIN DRAG QUEENS number; "I Love To Say Fuck", but really despite being in a support slot, there could have been so much more fun had here.
Our main support for tonight then; SOIL [7] have another incredibly brief set in all honesty but they do their damned best to make up for it. They open up with the high-octane "Breaking Me Down" off of their breakthrough album "Scars", as well as performing "Redefine" which gets a great reception…but in a gloriously entertaining piece of self-awareness, vocalist Ryan McCombs banters with the crowd, stating that he KNOWS they all want to hear "Halo", but if they played that too early everyone would just fuck off! There's laughter and it's all a very comfortable, laid back set in all fairness, however when those drums kick in and "Halo" does begin the place goes absolutely bat-shit. Its testament to how much of a modern metal anthem the track has become over time. With that out of the way, they round things up with their cover of "Black Betty" and everyone's happy, wrapping up tonight's support nicely.
Finally then…it's time for what we've all been waiting for, as STATIC-X [8] make their way on to the stage…Tony Campos, Ken Jay and Koichi Fukuda are all present from the classic line up; of course they are, but on vocals, we have a mysterious figure, donning an almost Jim Root-esque Wayne Static mask. Far from being tongue in cheek or housing any sense of disrespect or parody however, they want to give the fans as true a Static-X performance as they physically can, and this pays homage to their fallen brother.
The vast majority of their set does rightfully focus on "Wisconsin…", with classic tracks such as "Bled For Days", "Fix" and naturally, "I'm With Stupid" bringing back fantastic memories, while tracks from their sophomore album "Machine" incite some huge sing-along's from the packed Tramshed; especially "Black And White" and "Cold". The stage production is incredible too despite its simplicity…with three huge LCD screens, the visual effects and light show really add to the intensity of the bands industrial metal and it all becomes pleasantly psychedelic. As the band finish up with "Push It", all we can really do is two things…firstly admire and applaud the band for taking the gamble here to put this tour together, and of course, appreciate the memory and legacy of Wayne Static. It's hard to imagine the evolution of heavy alternative metal without his input, given his style and presence…and though while this current incarnation may only be the next best thing, we can only be grateful that Static-X honored him in this way…I just hope everyone who attended this tour honored him in the same way too…
Static X Set List
Bled for Days
Wisconsin Death Trip
Fix
Love Dump
Sweat of the Bud
I Am
Otsegolation
The Trance Is the Motion
Get to the Gone
Black and White
This Is Not
Destroy All
Start a War
Behemoth
Cold
I'm With Stupid
Push It