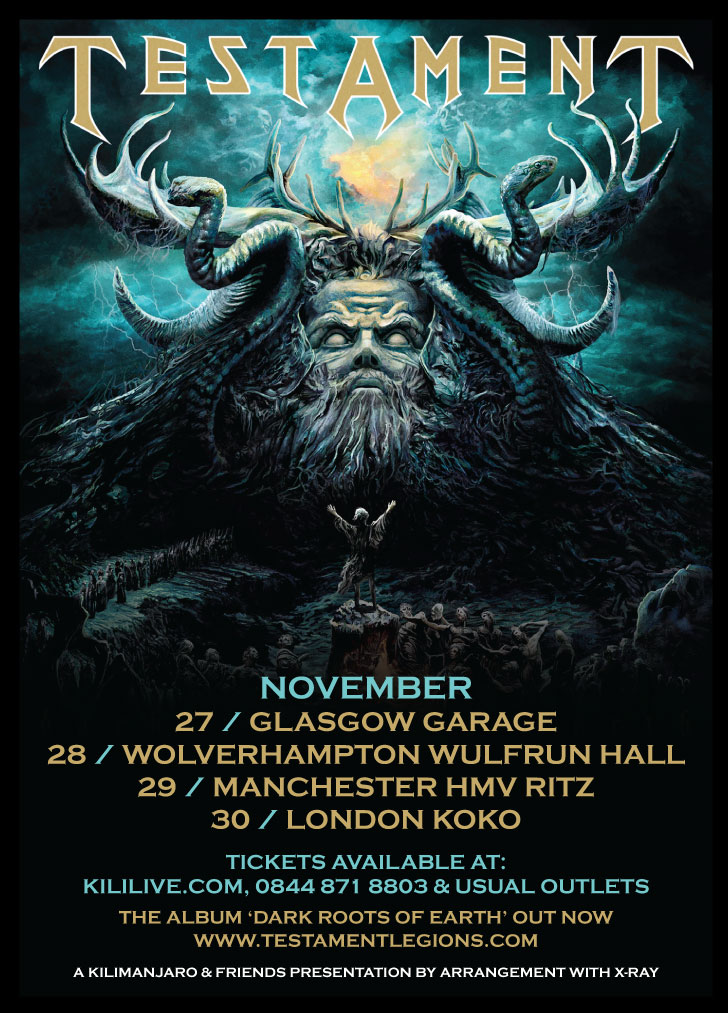 Testament live at HMV Ritz Manchester
3rd December 2012
Gig: Testament
Venue: HMV Ritz, Manchester
Date: 29th November 2012
Reviewed By: Matt
Setlist:
        Rise Up
The New Order
The Preacher
Native Blood
True American Hate
More Than Meets the Eye
Dark Roots of Earth
Into the Pit
Practice What You Preach
Over the Wall
Alone in the Dark
Disciples of the Watch
D.N.R. (Do Not Resuscitate)
3 Days in Darkness
The Formation of Damnation
Testament are one of the old school metal thrash bands that have been very much part of the beating heart of core Thrash bands that helped put that style of metal on the map and across the globe, their records savage but definingly at times more melodic and clearer in vocals than a lot of their musical challengers. The Ritz tonight is teeming with thrashers and moshers of all ages waiting in anticipation for their heroes to hit the stage. This they do at 21:00hrs to opener of the new album "Dark Roots Of Earth" – "Rise Up " – a song that demands audience attention and is easy to get everyone involved, lead Vocalist Chuck screams to the audience "When I say rise up, you say" to which "WAR!" is bellowed  back in force.
It's easy to see why their is such an allegiance of fans here tonight, Testament are a powerful force that are still as relevant today and when they first delivered their first album. The band move through songs of recent albums before dipping their toes into the past to which the crowd revel in, by the time "Practice What You Preach" rears it's ugly venomus head the crowd are a sea of motion beating heavily to the music, "Over The Wall" drives it further and you can feel the power in the room both from the band and from the audience.
It's hard in a lot of ways to understand why Testament aren't bigger, they deliver power, in full force and write the tunes that can move you and raise that inner raging demon to the surface. By the time the band perform "3 Days Of Darkness" and closer "The Formation Of Damnation" the audience finally released from Testament's grip, the audience go home content, probably aching from the night of moshing and power, but that will be nothing for what the morning brings.
The big four toured last year  – Metallica, Megadeth, Anthrax and Slayer, I'm still confused why it wasn't the big six, both Testament and fellow thrashers Overkill have been and continue to be just as important to Thrash's survival as ever. If you get the chance, go see Testament, to witness is a power to behold……
9 out of 10