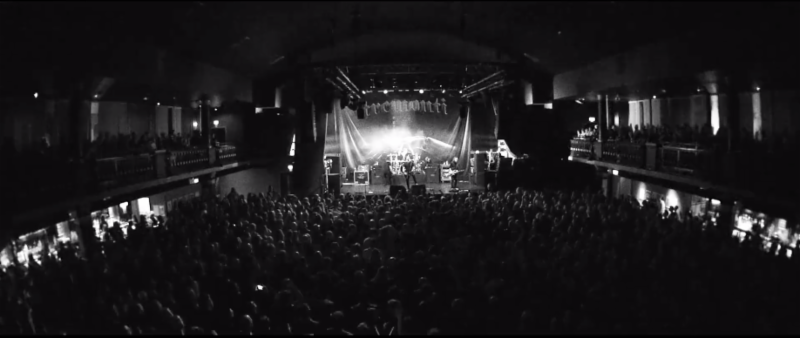 TREMONTI 4th DECEMBER 2019 KENTISH TOWN FORUM HEADLINE
1st March 2019
The Kentish town Forum is a venue i always like going to . Whether you are short or tall you can always find a good spot to stand. The venue felt electric as people were still entering and i knew we were going to have a good night .
There is nothing I like more than turning up at a venue and there is a few rows of die-hard fans with banners and full of excitement .
The first band was Disconnected . All the way from France. I for one am new to this band but they had some good songs, musicianship and stage presence worthy of being on this tour.
The singer who resembled a mighty French version of Thor really held the audience . I for one need to see this Band again and I would say they are one to watch, I feel their best material is yet to come .
Main support (How did that happen?) is The Raven Age. For me they should be still performing smaller venues .
1) Lack of songs
2) The use of profile amps with no cabs on the stage ment that people like me in the centre at the front mainly heard drums.
So please change this !! The sound was awful . I will say no more of this but at best they should have been on first ………at the Dublin Castle .
So the time has come for the Headline act…
TREMONTI .
For those who don't know Mark Tremonti is the Guitarist and one of the main songwriters of Creed and more currently Alter Bridge.
The band also has the also super talented Eric Friedman on Guitar with Tanner Keegan on bass and newcomer Ryan Bennett on drums .
So all I can say is the loyal Tremonti fan club are awaiting for the band to hit the stage .
They explode onto the stage with the first storming song Cauterize. If anyone had slightly dozed off beforehand then this was sure to wake everyone up .
Next up is You waste your Time . Another stomping song …
I for one have only caught Tremonti in some mid-afternoon hangover mess at Download so it is great to see them in more "slightly sober" surroundings.
If you like Alter Bridge you are likely to like this too. Slightly harder edged but also with that amazing live execution of songs . Eric makes the perfect complimentary guitarist to Mark . He is totally on the money with his playing and performance ….actually the whole band are. For any young aspiring musician this is a perfect schooling on how to be in a band.
I can honestly say at the time of the show I wasn't that knowledgeable of Tremonti and his own band but now I am swimming through his back catalogue finding some gems ..
Flying monkeys is certainly a favorite and was fantastic to hear this in the set.
Throw Them to the Lions which is an awesome song off the new album tore it up big time!
The show drew to a close with A Dying Machine and Wish you Well which held the whole audience in Marks hand.
I for one will certainly catch the next tour ……
I do wonder who books these supports though ????
SETLIST
Cauterize
You Waste Your Time
Another Heart
Traipse
Take You With Me
My Last Mistake
The Things I've Seen
The First the Last
Trust
Catching Fire
So You're Afraid
Flying Monkeys
Radical Change
Unable to See
Bringer of War
Dust
Throw Them to the Lions
A Dying Machine
Wish You Well