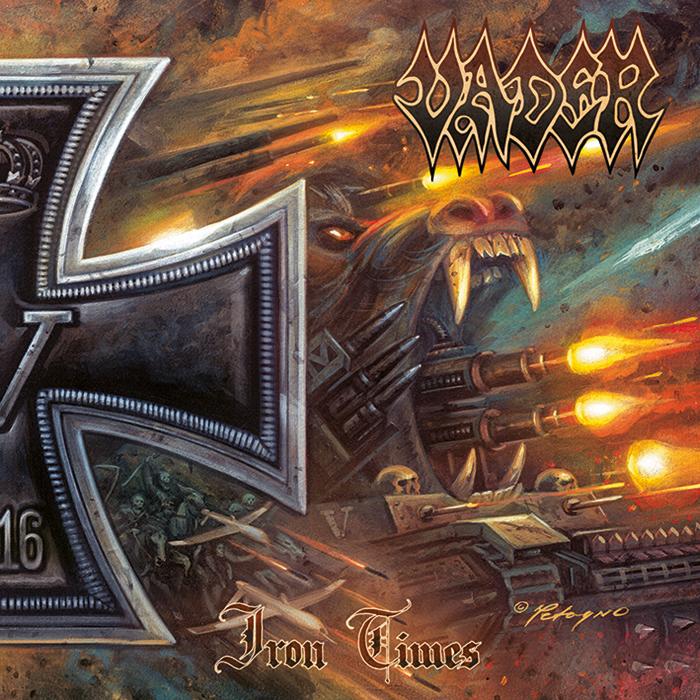 Vader – Iron Times CD Review
7th August 2016
Vader are, perhaps, one of the most consistent death metal bands ever to defile God's green Earth. Their entire discography is nothing short of excellent, and they are widely regarded as one of the best death metal bands on the planet. When Vader announced not one, but two, slabs of new music this year, everyone here at AATR Towers had a wry smile of joy – new Vader means excellent death metal. The first of the two releases is a short one – Iron Times is a four track EP, while the second will be their 12th full length album, The Empire.
Iron Times is split in two. With the first half, we have two new tracks, Parabellum and Prayer To The God Of War, which are typical Vader. Parabellum is as fast as they come. It is the classic thrash-influenced death metal that Vader are known for, unrelenting in its speed and execution. Prayer To The God Of War is the real gem on Iron Times, however. A little more groove-focussed, Prayer… is brilliant modern Vader with a huge, hook-filled chorus and a mercilessly shred-filled solo. The only real gripe I have with these new songs is their length – the two together barely reach five minutes in total.
The second half of Iron Times focuses on covers. The first cover to be heard is Pięść I Stal from Panzer X. Panzer X was a side-project of Piotr Wiwczarek, and Decapitated's Vitek (Rest In Peace) which focussed on a more traditional metal sound than the visceral death metal they produced. Only one EP was released, Steel Fist, before the project was put on hold after Vitek's tragic death. With Pięść I Stal, we see Vader covering the title track from Steel Fist, but in their native Polish rather than English. It is a groovy, slog of traditional heavy metal that has been beefed up to a more death-metal sound, and the linguistic change makes it an incredibly interesting addition to Iron Times. The final track from the EP is a brilliant cover of Motörhead's Overkill, which stands as a fine tribute to our fallen leader.
Iron Times is a short, fun EP, that excellently serves it's purpose of building hype for The Empire. The covers are interesting and the new songs give an indication of the sound Vader are going for with The Empire. Some may take the quality of Iron Times as a sign that Vader are back, but really, did they ever leave?
Score: 8 out of 10

Iron Times Information
Track List:
1. Parabellum
2. Prayer To The God Of War
3. Pięść I Stal (Panzer X cover)
4. Overkill (Motörhead cover)
Record Label:
Nuclear Blast
Release Date:
12th August 2016
For fans of…
Morbid Angel, Deicide, Behemoth
Check out Vader on Facebook, and pre-order Iron Times here!