Valous – The Four Last Things
30th November 2017
Valous first entered AATRs consciousness when they opened for the mighty Mordred back in 2015 at the O2 Academy 2 in Birmingham and were supporting their debut album The Things You Once Knew.
Since then, Valous released The Devils Seven, which, surprisingly, contained 7 tracks, and now the band are set to unleash The Four Last Things E.P (I see a pattern emerging as there's only 4 tracks on this release) upon an unexpecting audience.
Kicking off with The Beckoning, this Birmingham quintet are taking no prisoners. Coming in strong with a massive guitar riff from Rig and Ben which is coupled with an incredible drum pattern from Lee. Matt's vocals have grown exponentially and the guitar solo is ear melting. Quite simply, a great start and promising for what will come next.
Weighing Of The Heart is the 2nd track. There's an unholy growl that doesn't brace you for a gorgeous melodic guitar solo before proceeding with an enormous vocal performance that is somewhere between Phil Anselmo (grit) and Steve Grimmett (power). 
3rd track, 333 slows things down a little. Wilfs fuzzy bass gets a solo right before the main riff comes crashing in like a 10 tonne hammer. Truly an epic power metal track.

The finale Dextera Domini (translated as The Hand Of God) is a tremendous closer. A couple of really nice virtuoso solos that John Petrucci would be envious of and a vocal performance that Bruce Dickinson of Iron Maiden would be proud of. 
At just 20 minutes, this is a recording to get your head nodding away and it's a massive step up from their previous outings.
Valous are a band well worth checking out. 
For fans of Sanity Days, Alcatrazz, Furyon
Score 7/10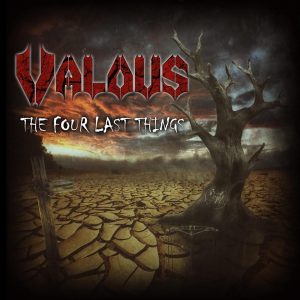 Track List
1 – The Beckoning
2 – Weighing of The Heart
3 – 333
4 – Dextera Domini
Release Date
30th November 2017
Label
Chillybean Records
For all things Valous click HERE and to purchase the EP and other releases click HERE