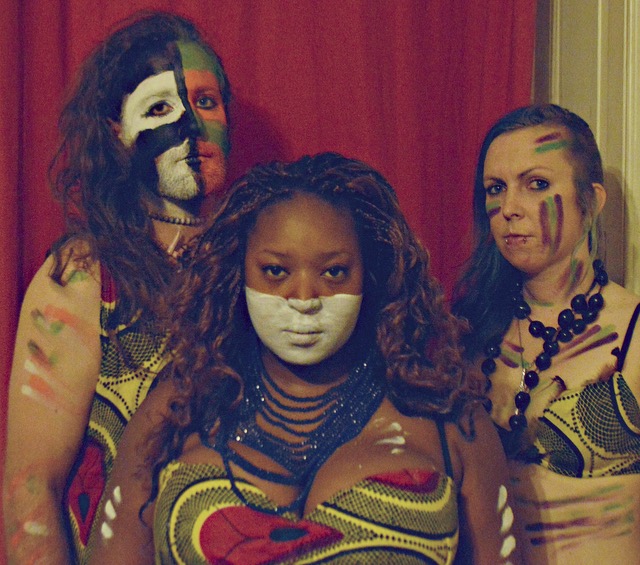 Vodun – Interview
20th April 2017
Ahead of their headline show at Huddersfield venue The Parish, we caught up with Afro-doom pioneers Vodun to chat spirituality, System of a Down and scaring people on stage…
How are you guys and how has the tour been so far?
Oya (lead singer): It's been good! We've been on it since Wednesday and headlined Coventry, then we joined (prog/psych supergroup) Church of the Cosmic Skull for Bristol, Leeds, Manchester, Nottingham and Newcastle.
Ogoun (drummer): Playing after the bank holiday weekend is always a challenge so Newcastle was a little quieter than normal, but the crowd were still super enthusiastic and keen to spread the word.
Do you feel as though an album like Possession (released 2016) is best performed live?
Oya: I don't think we write it with the live show in mind, as such – I don't, anyway. We just write whatever we feel like writing and then it transpires into the live performance.
Marassa (guitarist): But we do take the set list and work a few extra live bits into the songs, just so it's slightly different to listening to the record. We find that's what gets more energy out of the room.
How would you sum up the live experience of Vodun?
Oya: It's definitely a frantic, heartfelt kind of experience. Heavy rock with a lot of guts, all leading towards some sort of ritual. I like to think that people are entertained when they watch us – I like to think that we give everything we've got.
Marassa: A lot of people who haven't heard the album at all will come to the live shows and find that they're just blown away by the sheer energy of the performance.
You guys wear some pretty innovative costumes and body paint on stage. How important is this to what you do as a whole?
Oya: I think it allows us to be much more creative. Plus it's a lot of fun! You hope that translates over into the performance and that people enjoy watching it – I know I do. I love it when someone has actually thought about the stage show a little bit.
Marassa: I think it just helps to harness the art form, really. That's why people come out to a live show, to be entertained. So if you can create a bit of a spectacle and a theatrical performance on top of what you already do, people really get into it. You want to try and captivate people so they're not just heading to the bar two songs in!
Ogoun: The first or second show we ever played there was only a couple of people there and we were sat in the back saying 'shall we do it? Shall we do the outfits?' Then we just thought 'you know what, let's just go for it', and it really helped us get into those characters. People are definitely more scared of me on stage when I'm in costume!
You've all been in quite a few different projects prior to Vodun, which seems like a lot for people of your age. Have you always been into heavy music?
Ogoun: Pretty much. I used to play in an all-girl feminist hardcore band, and I moved up to London from Cornwall around 12 years ago where I met Oya. Almost straight away we started playing music together.
Oya: Both my parents were soul and gospel singers – in fact, my mum used to do backing vocals for Sting and Eric Clapton. I've always been singing, and then I fell into (blues/rock band) Do Me Bad Things and that's where I started to expand my musical taste.
Marassa: I've always been into heavy metal and bands that are heavily performance-based, like KISS and AC/DC. Coming from New Zealand, it's really hard to tour over there, so I came over to the UK to get better access to the scene here and in Europe.
How did the theme of Vodun itself (the ancient West African religion) come about?
Oya: Ogoun and I have known each other for over ten years and there's always been a connection there musically. She started studying a lot of Afrobeat and at the time I was surrounded by a lot of African spirituality, due to where I was living. That access made it a lot easier to delve into the history of these ancient practices: where they come from, where they've gone and where they sit now. Historically it's just so interesting and it's such a shame that any positive aspect of it has been completely erased. It goes back to colonialism, it goes back to the crusades – all things that our Western society is based on. But all the stuff that has transpired since then has only really served to demonize the culture, which is why most people think of Vodun as a horrible thing – all pins and dolls. When you name yourself after an ancient religion you want to do it justice anyway, and this is part of my heritage, so we want to speak about the good aspects of it too.
You've toured with Limb and Uncle Acid and the Deadbeats, among other bands. Who would be your dream band to support or tour with?
Ogoun: Die Antwoord!
Oya: I personally would love to tour with George Clinton and Parliament Funkadelic, just because they helped to spawn a whole generation of hip hop and soul. They also used their first paycheck to buy a giant spaceship for the stage and that's pretty cool.
Ogoun: System of a Down would be good. Their first album was super weird and heavy but still really fucking catchy, and I think that's a little bit like what we do in Vodun.
What's next for Vodun?
Ogoun: We're writing and writing at the moment. We have about six new songs and we're putting about three of them in the set at the moment. Obviously with Possession we had the clear theme of spirituality but it also related to how music can sometimes make you feel possessed. With these new songs we seem to be going more down the route of tradition and what you can learn from ancient traditions.
Oya: A lot of the stuff we're writing is inspired by what's going on in the political climate at the moment. It really feels like we read about all this stuff in history books. So we're kind of using the music to look back, to achieve a sense of direction, and then looking forward to get through it all. That's the direction we're taking with the new album.
Vodun play London Desertfest at The Underworld on the 28th of April. Their album 'Possession' is out now via Riff Rock Records.