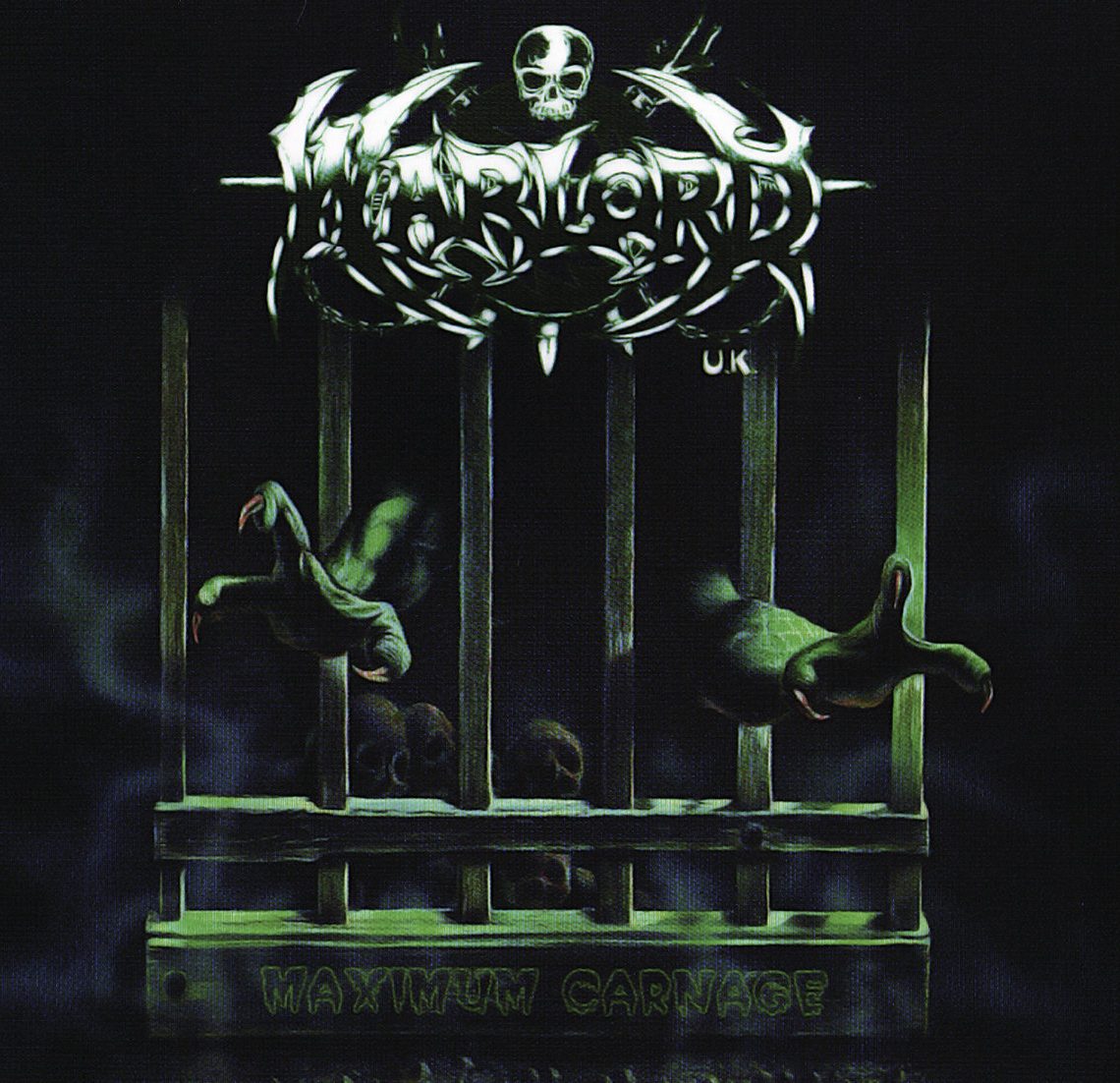 Warlord UK – Maximum Carnage Reissue CD Review
5th November 2016
0
By
Fraser
Death metal didn't seem to take off in quite the same way here in the UK as it did in the States and Europe in the early days. That's not to say we didn't do it well – Bolt Thrower are one of the underground's most beloved bands to this day. It's just UK death metal bands didn't seem to really get a foothold until much later. As a result, many bands seemed to fizzle out. Such was the case for Warlord UK (previously known as Warlord). After a promising debut – Maximum Carnage – Warlord called it quits in 1998. That was not the end of Warlord's saga, however. After a decade, they reformed as Warlord UK, and have since released two powerful slabs of old-school death metal: Evil Within and We Die As One. And this year, to celebrate the album's 20th birthday, Transcending Obscurity Records are re-releasing Maximum Carnage.
The debut album from Warlord UK is filled with flurries of brutal talent from start to finish. While yes, Maximum Carnage is not the most memorable death metal album, the tracks are punishing and fun to listen to.  The album's title-track kicks of proceedings with some tasty, groove-laden riffing before diving into some up-tempo, thrash-tinged death metal. Nowhere To Run focuses all attention on the commanding and hooky riff work during the almost two-minute intro. The rest of the track is packed with classic sounding, hard hitting death metal. Warlord UK took a more thrash-orientated sound with Change, which is much faster and though it lacks the savagery that can be found on much of the album, sounds like a perfect mix of thrash and old-school death metal.
Both Alien Dictator and Vivisection are perfect examples of how quality old-school death metal was back in the day – riff-heavy and utterly brutalising, though still structured, and reasonably accessible. The album highlight, however, is without a doubt Theatre of Desctruction. The track is a masterclass in brilliant death metal. Fast and thrashy, though still worshipping the low end, it is not difficult to see why this track has been a staple in Warlord UK's live set.
As well as the eight original tracks, the 2016 re-issue of Maximum Carnage features two live versions as bonus tracks. Although the live quality of both tracks – Maximum Carnage and The Fucking System – are both pretty good, these tracks don't add a huge amount to the album as a whole.
Clocking in at just over half an hour, Maximum Carnage is 31 minutes of pure, old-school devastation. Filled with thrashy undertones,and a much more enjoyable production quality than the original 1996 release, Maximum Carnage is an unspoken UK death metal classic. The album has magnificently stood the test of time, sounding as refreshing and energetic as any of this year's original releases. This is a solid investment for any fan of old-school death metal that missed the original print 20 years ago.
Score: 8 out of 10
Maximum Carnage Information
Track List:
1. Maximum Carnage
2. Disintegration
3. Nowhere To Run
4. Change
5. Alien Dictator
6. Vivisection
7. Theatre of Destruction
8. Race War
9. Maximum Carnage (Live)
10. The Fucking System (Live)
Record Label:
Transcending Obscurity Records
Release Date:
31st of December 2016
For fans of…
Bolt Thrower, Benediction, Echelon
Preorder Maximum Carnage here!
How useful was this post?
Click on a thumb to rate it!
Average rating 0 / 5. Vote count: 0
No votes so far! Be the first to rate this post.
Related
About the author
This bearded wildman from North of the wall survives the harsh ever-present winter of Scotland on a healthy diet of thrash, death metal and beer.