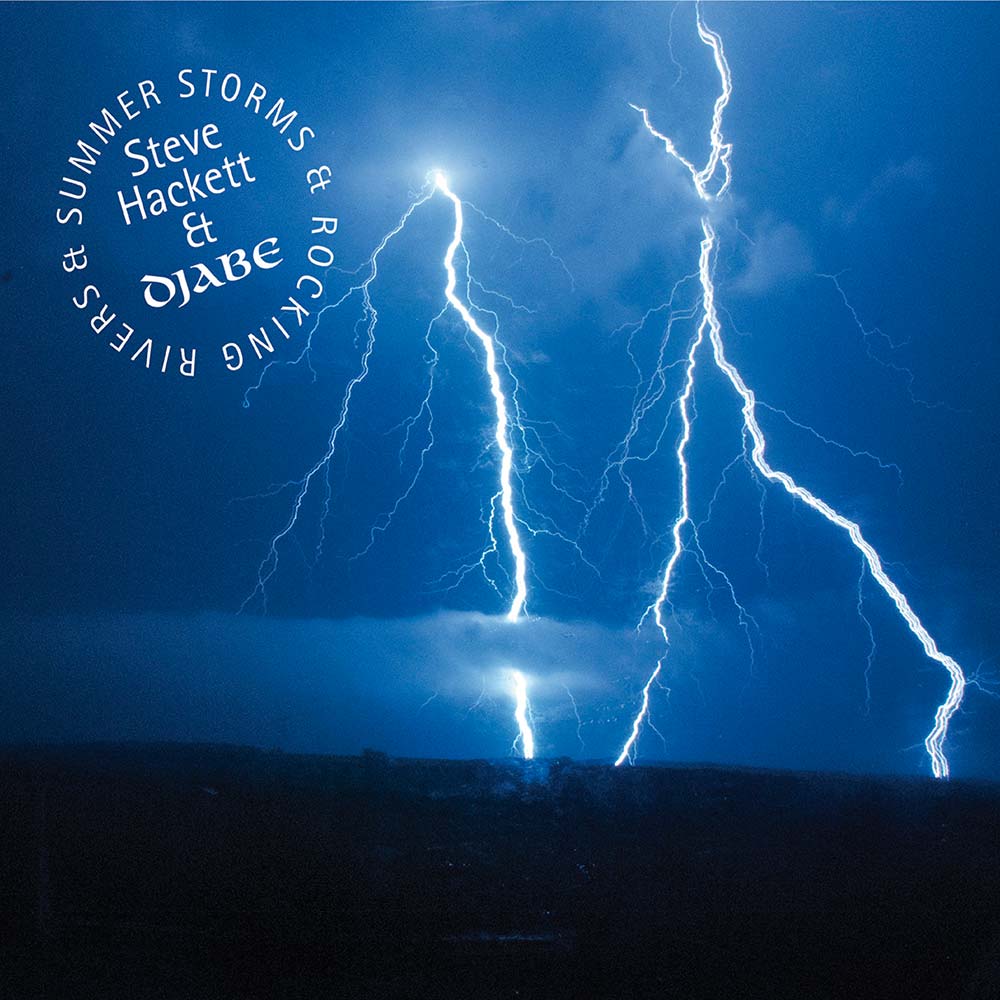 Steve Hackett & Djabe – Summer Storms & Rocking Rivers
7th February 2017
Although billed as Steve Hackett & Djabe, this is more of a Djabe FEATURING Steve Hackett product, believe me when I say, that it's no bad thing at all.  Originally released as a double vinyl & Blue Ray set only. Thanks to HNE this now sees the light of day on CD & DVD.
The whole experience is incredible. The live CD is superb, crowd noise kept to a minimum, the violin drums & of course Hacketts guitar sound immensely crisp. Just shy of 79 minutes, it's a perfect album to have in the car on a long journey or even just relaxing with a book.
I'd never heard any Djabe before & I'm beginning to wonder why they've been off my musical radar. Incredibly eclectic. A mix of prog, blues & folk with a tinge of Hungarian jazz (which isn't really a surprise as Djabe are indeed Hungarian)
Steve Hackett is a phenomenal guitar player & the versions of  his classics coupled with a couple of Genesis compositions is simply jaw dropping. 

Recorded & filmed in Bratislava back in 2011 & Budapest in 2012, The DVD portion of this release is beautifully filmed & the extras (Promo video for Tears For Peace, documentary along with extra performances from Hungary in 2013) make for a running time just over 2 hours. There are also 2 audio options on the DVD. straight forward stereo or (my personal favorite) 5.1 surround. 
Every band member is wonderfully filmed & properly captured during their own extended phrasing & Steve Hackett is a joy to watch as well as to listen to. His use of chord structure & musical wizardry is sublime. He makes it look effortless yet oozing with raw power & emotion. 
This is quite simply an incredible release with exquisite music. There's great liner notes by Steve Hackett, a bio of Djabe, aswell as a few incredible live photos taken whilst on tour. 
Make this one of your 2017 purchases & you won't be disappointed.
For fans of Steve Hackett & Lazuli
Track List
DISC ONE:
1. CITY OF HABI
2. THE STEPPES
3. BUTTERFLY
4. SCENES – ABOVE POLAND
5. SCENES – SUNSET AT THE SEASIDE
6. HORIZONS
7. ACE OF WANDS
8. FLOWERS STILLNESS
9. RUSH FOR MÉNES
10. STRANGE PLACES
11. LAST TRAIN TO ISTANBUL
12. FIRTH OF FIFTH
13. SUMMER RAIN
14. IN THAT QUIET EARTH
15. DISTANT DANCE
16. LOS ENDOS
DISC TWO: DVD
1. CITY OF HABI
2. THE STEPPES
3. DARK SOUP
4. BUTTERFLY
5. SCENES – ABOVE POLAND
6. SCENES – SUNSET AT THE SEASIDE
7. STEVE'S ACOUSTIC SET:
CLASSICAL GAS
BLOOD ON THE ROOFTOPS
HORIZONS
8. ACE OF WANDS
9. FIRTH OF FIFTH
10. LAST TRAIN TO ISTANBUL
11. SUMMER STORMS
12. ROCKING RIVERS
13. RUSH FOR MÉNES
14. STRANGE PLACES
15. RUSH FOR MÉNES REPRISE
16. SUMMER RAIN
17. IN THAT QUIET EARTH
18. DISTANT DANCE
BONUS FEATURES
1. JACUZZI/OVERNIGHT SLEEPER
Recorded on 10th November, 2013 in Miskolc, Hungary
2. TEARS For Peace (promotional video)
Recorded and filmed 2012 in Budapest, Hungary
3. ROCKING SUMMER ROADS: documentary including
The Steppes – live in Debrecen, 16th July 2011
Scenes – live in Debrecen, 16th July 2011
Los Endos – live in Budapest, 18th July 2014
Los Endos closing section – live in Budapest, 30th November 2012
Label
Esoteric
Release Date
24th February 2017
Check out Djabe HERE  & Steve Hackett HERE