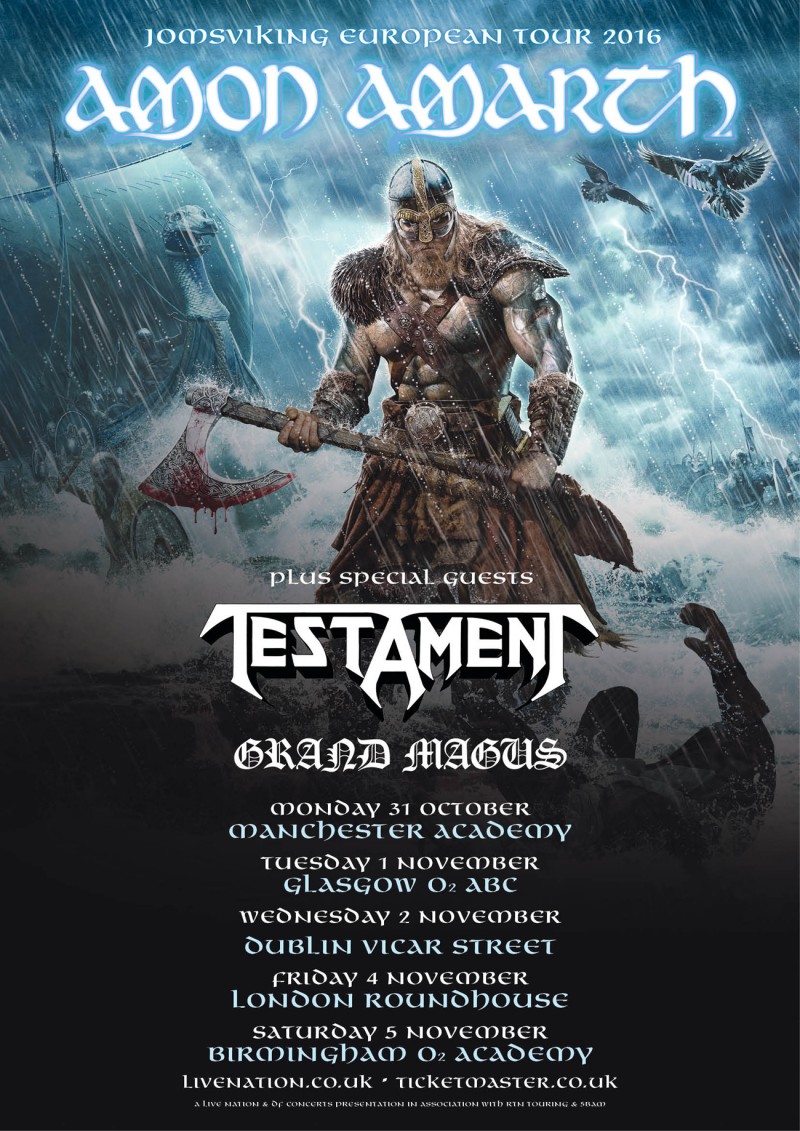 Amon Amarth: Gig Review – Glasgow, 01/11/2016
2nd November 2016
4
By
Fraser
This was a night I had been looking forward to for a long, long time. It's no secret that Amon Amarth are one of my all time favourite bands. It's also no secret that their newest effort, Jomsviking blew me away – I gave the album my first ever 10/10 score! It would also be a slight understatement to say I am a huge Testament fan. And with their newest album, Brotherhood of the Snake ranking as thrash album of the year (in my humble, generally pointless opinion), I was more than excited to see the new tracks in a live setting.
The night was opened by fellow Swedes Grand Magus [8/10]. I have not had much experience with Grand Magus, other than listening to a few tracks on YouTube in the build up to the gig. The tracks I listened to weren't bad, but certainly didn't inspire me to dig into their discography. However, as a live band, I cannot say a bad word against them. The three-piece had an excellent stage presence and a hammering delivery. They were met with more enthusiasm from the crowd than I've seen an opening band get in a long time. Their brand of stoner metal isn't really my thing, but if you are a fan of the genre, I cannot recommend Grand Magus enough. 
After a short break to set up their gear, Testament [10/10] took to the stage. "Wow", is all I can say. With a set mainly focussed on recent material, Testament showed Glasgow they are both America's best and America's most under-appreciated thrash band, bar-none. Testament's chemistry, stage presence, and sheer talent leaves the question of why they are not in the same commercial league as Metallica or Slayer ringing in your mind. Gene "The Atomic Clock" Hoglan lead the band through their far-too-short set with punishing precision.
Chuck Billy's stage presence can only be described as dominating, and his dedication of Stronghold to his "Native brothers and sisters at Standing Rock" was a stirring, fist-in-the-air moment. I was right in front of Alex Skolnick for Testament's entire set, and his playing was absolutely mesmerising. Testament have the energy of a band less than half their age, and their dominance on stage serves as evidence they are not even close to the end of their career.
After a more lengthy setup, Amon Amarth [10/10] finally took to the stage. Amon Amarth's entire show was simply stunning. From the awesome stage to the crew-members sword fighting, in terms of showmanship, Amon Amarth are death metal's answer to Iron Maiden. Powering through a massive setlist, Amon Amarth gave concrete proof that they are one of the finest live bands in the genre. Tighter than any band has any right to be, their performance was magnificent. A highlight was definitely the appearance of Loki during Father of the Wolf, in the same garb as what can be seen in the video.
At Dawn's First Light, The Way of Vikings and One Thousand Burning Arrows are as stirring, skull-cleaving and emotional live as they are on the record. Jomsviking's drinking anthem Raise Your Horns was still refreshing to hear, despite the almost constant airplay and promotion the track has had – Johan Hegg chugging a massive drinking horn (I suspect between 3-5 litres, as found on Grimfrost) was simultaneously entertaining and terrifying. The older tracks were equally stellar – Death In Fire and Destroyer of the Universe were simply brutalising, Guardians of Asgaard was as rousing as ever, and Cry of the Blackbirds sent shivers up and down my spine.
A criticism Amon Amarth often faces is the lack of huge variety in their albums. You always know what to expect from them. And while there is truth in that, everything the band releases is refreshing. And by Odin's beard, do they deliver it live! Amon Amarth are as anthemic as they are devastating and as entertaining as they are professional. Johan Hegg is, without a doubt, death metal's most charismatic front-man. Both as a critic and as a fan, I am beyond excited to see how Amon Amarth progress as their popularity takes this seemingly exponential leap.
Amon Amarth Setlist
1. The Pursuit of Vikings
2. As Loke Falls
3. First Kill
4. The Way of Vikings
5. At Dawn's First Light
6. Cry of the Blackbirds
7. Deceiver of the Gods
8. On A Sea of Blood
9. One Thousand Burning Arrows
10. Destroyer of the Universe
11. Death In Fire
12. Father of the Wolf
13. Runes To My Memory
14. War of the Gods
15. Raise Your Horns
16. Guardians of Asgaard
17. Twilight of the Thunder God
Testament Setlist
1. Brotherhood of the Snake
2. Rise Up
3. The Pale King
4. Disciples of the Watch
5. The New Order
6. Dark Roots of the Earth
7. Stronghold
8. Into the Pit
9. Over the Wall
10. The Formation of Damnation
Grand Magus Setlist
1. I, the Jury
2. Sword of the Ocean
3. Varangian
4. Steel Versus Steel
5. Like the Oar Strikes the Water
6. Iron Will
7. Hammer of the North
How useful was this post?
Click on a thumb to rate it!
Average rating 0 / 5. Vote count: 0
No votes so far! Be the first to rate this post.
Related
About the author
This bearded wildman from North of the wall survives the harsh ever-present winter of Scotland on a healthy diet of thrash, death metal and beer.