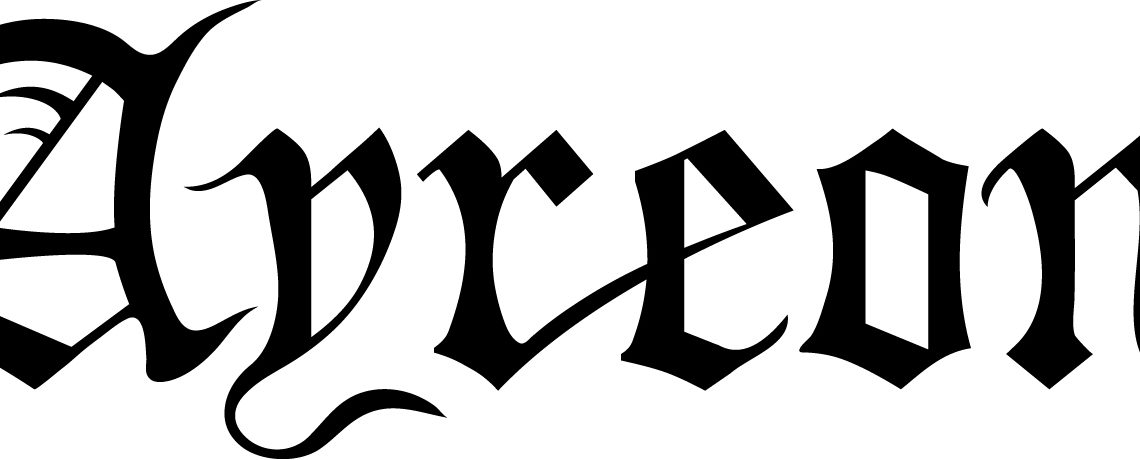 Ayreon – The Theater Equation – CD & DVD review
1st June 2016
Back in 2004 Ayreon released The Human Equation to massive critical acclaim. Featuring performances by Devin Townsend, James Labrie (of Dream Theater) Heather Findlay (of Mostly Autumn) Mike Baker (of Shadows Gallery), Mikael Akerfeldt (of Opeth) & Irene Jansen, to name but a few.
June 17th Ayreon release The Theater Equation, which as the title suggests is a live version of The Human Equation & features live performances from a few of the aforementioned artists along with many more.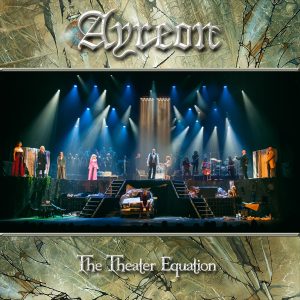 Being released as a deluxe version,  containing artbook, 2CDs, 2 DVDs & the BluRay, along with a special digipack editions which will house 2 CDs, DVD/BluRay (depending on which version)& digital double album.
As with most concept/rock opera albums there's a theme that runs throughout.
'After a car accident, a man ("Me") falls into a coma, and, in his head, is confronted with his past, his emotions, and his current situation as he lays trapped inside his own mind. The circumstances surrounding the accident are mysterious, as Me ploughed into a tree on a deserted road in broad daylight. Following this, he slips into a twenty-day coma. While each day is represented by a single song on the album the theater show uses stylistic means like several repetitions. Each song follows a slightly different format, though there are major common themes, such as the presence of Me's manifest emotions in his dream world including Fear, Reason, and Pride; the presence of Me's Wife, his Best Friend, a doctor and a nurse at his bedside; and the past events that Me is forced to reflect on.'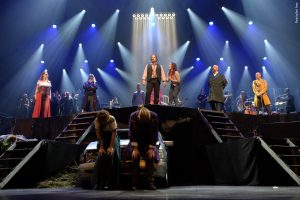 It's really rich story that only Arjen Anthony Lucassen can tell. Not only is the man a multi faceted musician but Arjen is a master story writer & really should look at moving into writing screen plays as well.
The CDs are superbly mastered & sound beautiful. All the instruments & vocal performances are perfectly balanced & serves as a great accompaniment to the DVD.
The DVD is so much more than just a live performance. It's theater.
Everything that the original concept album conjured up is perfectly recreated on the stage including an abundance of stage props such as the crumpled car wreck & hospital bed.

This is a masterclass of how you put a rock opera straight on the stage. Incredibly & compulsive viewing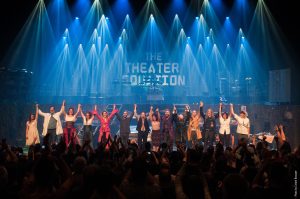 Available from the 17th June via Inside Out Music & available from the usual outlets
Track list.
CD 1
1. "Day One: Vigil"
2. "Day Two: Isolation"
3. "Day Three: Pain"
4. "Day Four: Mystery"
5. "Day Five: Voices"
6. "Reprise Pain 1"
7. "Day Six: Childhood"
8. "Day Seven: Hope"
9. "Day Eight: School"
10. "Reprise Childhood"
11. "Day Nine: Playground" (Adaptation of Edvard Grieg's Morning mood)
12. "Day Ten: Memories"
13. "Reprise Pain 2"
14. "Day Eleven: Love"
CD 2
1. "Day Twelve: Trauma"
2. "Day Thirteen: Sign"
3. "Day Fourteen: Pride"
4. "Reprise Vigil"
5. "Day Fifteen: Betrayal"
6. "Reprise School"
7. "Day Sixteen: Loser"
8. "Day Seventeen: Accident?"
9. "Reprise Pain 3"
10. "Day Eighteen: Realization"
11. "Reprise Trauma"
12. "Day Nineteen: Disclosure"
13. "Day Twenty: Confrontation"
14. "Dream Sequencer System Offline"
BluRay/DVD
1. Day One: Vigil
2. Day Two: Isolation
3. Day Three: Pain
4. Day Four: Mystery
5. Day Five: Voices
6. Reprise Pain 1
7. Day Six: Childhood
8. Day Seven: Hope
9. Day Eight: School
10. Reprise Childhood
11. Day Nine: Playground
12. Day Ten: Memories
13. Reprise Pain 2
14. Day Eleven: Love
15. Day Twelve: Trauma
16. Day Thirteen: Sign
17. Day Fourteen: Pride
18. Reprise Vigil
19. Day Fifteen: Betrayal
20. Reprise School
21. Day Sixteen: Loser
22. Day Seventeen: Accident?
23. Reprise Pain 3
24. Day Eighteen: Realization
25. Reprise Trauma
26. Day Nineteen: Disclosure
27. Day Twenty: Confrontation
28. Dream Sequencer System Offline
Cast
Returning from The Human Equation
James LaBrie (Dream Theater) as Me
Marcela Bovio (Stream of Passion) as Wife
Irene Jansen as Passion
Magnus Ekwall (The Quill) as Pride
Heather Findlay (ex-Mostly Autumn) as Love
Devon Graves (Dead Soul Tribe / ex-Psychotic Waltz) as Agony
Eric Clayton (Saviour Machine) as Reason
New
Jermain "Wudstik" van der Bogt as Best Friend
Anneke van Giersbergen (ex-The Gathering) as Fear
Mike Mills as Rage and Father
Anita van der Hoeven as Mom
Peter Moltmaker as Doctor
Nienke Verboom as Nurse
Katinka van der Harst as Nurse
Arjen Anthony Lucassen as Forever of the Stars
Epic Rock Choir – backing vocals
Instrumentalists
Returning from The Human Equation
Joost van den Broek (ex-After Forever) – musical director
Ed Warby (Gorefest, Hail Of Bullets) – drums
Jeroen Goossens – flutes and woodwinds
New
Marcel Coenen (Sun Caged) – guitar
Freek Gielen – guitar
Johan van Stratum (Stream of Passion) – bass
Erik van Ittersum – keyboards
Ruben Wijga (ReVamp) – keyboards
Ben Mathot – violin
Maaike Peterse (Kingfisher Sky) – cello
Score 10/10