Black Moth – Brighton, Hope & Ruin 07/02/18
7th March 2018
Feeling like death warmed up, I head out into the Brighton night to bear witness to a 'I Swear I Was There' moment to watch Black Moth play a pub/live music venue. 
The Hope and Ruin is a nice venue with an incredible sound which suited Black Moth perfectly. No muddying of sound and every note was pretty clear as well although Harriet Hyde's vocal was a little to low in the mix.
The audience was treated to the majority of the new album (Anatomical Venus) while the remainder of the set was taken from their previous releases (2012's The Killing Jar and 2014's Condemned To Hope).
Tonight was the start to a 9 date UK tour and there was no sign of 1st night jitters. They launched straight into the album opener Istra before heading straight into Moonbow (both tracks taken from Anatomical Venus). Black Moth are a band that take no prisoners live.
Song after song, riff after riff and some beautiful psychedelia fill the Hope and Ruin venue.
Although Black Moth only performed 13 tracks, they quite literally delivered a performance that fucked the audience royally and left them with a post coitus glow. There are very few live acts that can take a small room and rock its collective socks off. 
When this band returns, I wouldn't be surprised if they were performing at Brighton's Concorde 2 venue.
Black Moth are a must see band. If you can't get to see them live, then you need to buy the album. In fact, don't just buy the new album,get their other 2 releases while you're at it. 
Once you've been auditorily assaulted by the Black Moth, it's something you'll never forget.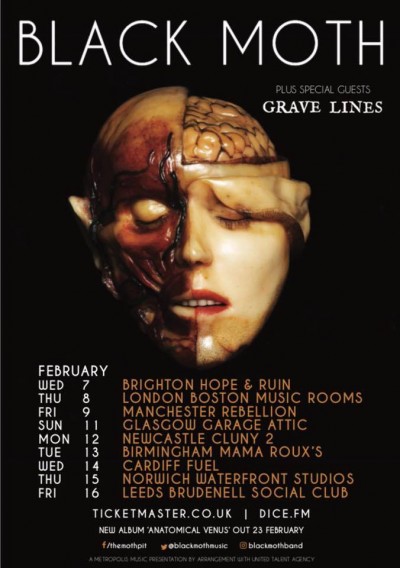 Set List
Istra
Moonbow
Severed Grace
Tree of Woe
A Lover's Hate
Looner
Tourmaline
Screen Queen
Sisters of The Stone
Tumbleweave
Blackbirds Fall
Honey Lung
Pig Man

For all things Black Moth click HERE and to purchase the album click HERE