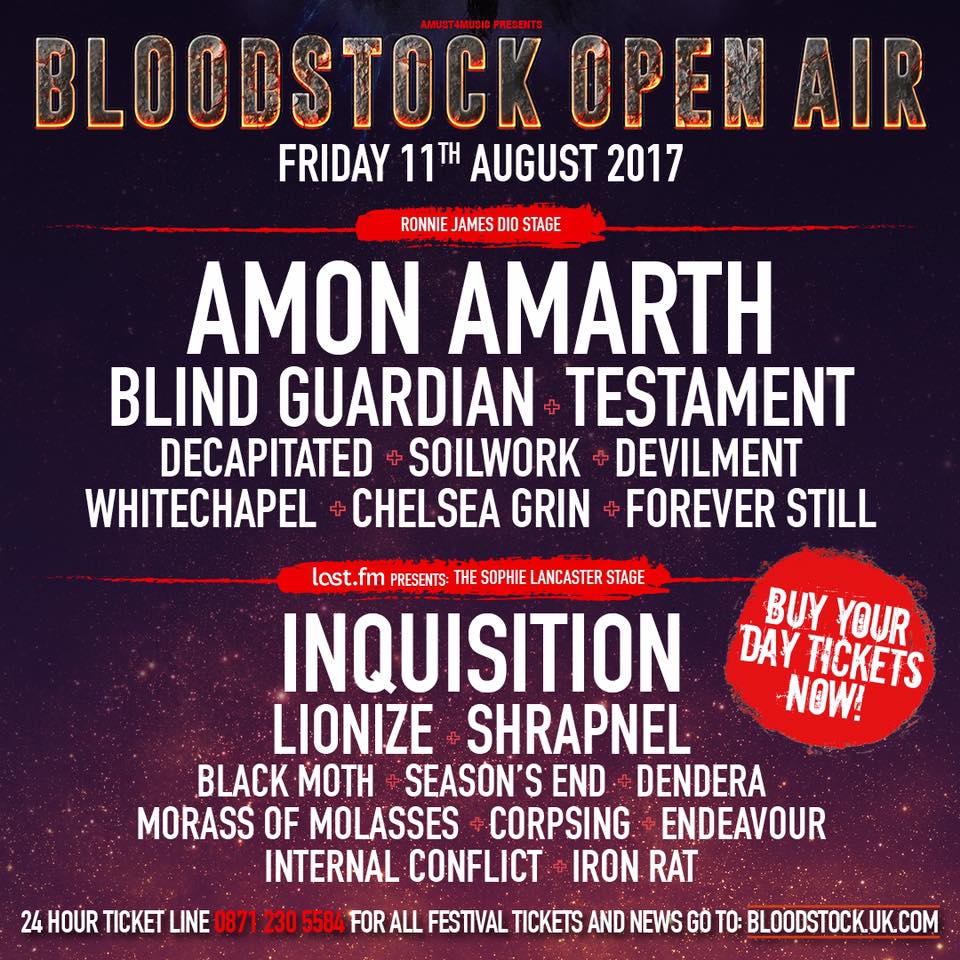 Bloodstock Festival 2017 Review – Friday
16th August 2017
3
By
Fraser
Bloodstock has always been a festival I've been hoping to go to – but as is want to happen, life, funds and time get in the way. So when All About The Rock were invited this year, I jumped at the opportunity. With accommodation taken care of thanks to the other half's family living nearby, showers and a comfortable bed left us refreshed each morning and ready to fully enjoy what Bloodstock had to offer. After driving down from Glasgow, we missed the Thursday, but read on, and see our review of the bands we caught on Friday!
Whitechapel – Ronnie James Dio Stage
Tennessee's finest, Whitechapel, were the first band I managed to catch over the weekend. After (stupidly) taking a wrong turn once I picked up my wristband, I ended up somewhere behind the Hobgoblin New Blood Stage. A lovely gentleman from Showsec opened the fence to let us through, saving us a massive trek back, and by the time we grabbed a bite to eat and a beer and had a bit of a wander, Whitechapel were already in full swing. Having progressed massively from their pure deathcore roots, offering something more than breakdowns and open notes. The highlight of Whitechapel's powerful set was definitely the unnaturally catchy I, Dementia, which was met with more than a few banging heads and hoarse throats. Impressively, Whitechapel performed a solid set despite their drummer jumping ship only a couple of days before. 
Verdict – 7/10
Order Whitechapel's latest album, "Mark of the Blade", here.
Ashen Crown – Hobgoblin New Blood Stage
Ashen Crown had a respectable spot on the New Blood Stage thanks to winning the Wolverhampton Metal 2 The Masses – and they definitely deserved it! Playing dark, somewhat doomy death metal with a bit of a blackened twist, they brought some brutality to proceedings early on. The lads on stage seemed genuinely over the moon to be there, and there wasn't a hint of arrogance at winning the spot. Their allotted half-hour was crammed with punishing riffs and insane tightness. The quintet left a very definite message in the wake of their set – Ashen Crown are a band to watch in the coming years. Their Bloodstock debut left an excellent impression, and hopefully, this won't be their last time at Catton Hall.
Verdict – 7.5/10
Download two of Ashen Crown's demos here.
Devilment – Ronnie James Dio Stage
Dani Filth's remarkably active side-project, Devilment, brought a flare of the theatrical to the Ronnie James Dio Stage. With their second album, "Devilment II: The Mephisto Waltzes" dropping late last year, the Witch-county gothic metallers took the opportunity to showcase some of the new material. Though Dani Filth has a lot of energy and is a strong frontman, clean vocalist/keyboardist Lauren Francis outshone the Cradle of Filth veteran's vocal performance. 
Verdict – 7/10
Order Devilment's latest album, "Devilment II: The Mephisto Waltzes" here.
Blood Thread – Hobgoblin New Blood Stage
The last time I saw Glasgow's brutality merchants Blood Thread was at the release show for Exile the Traitor's awesome EP, Winter Eternal. I remember being impressed by the sheer savagery on display, but nothing else really stuck in my mind. Their set this weekend on the New Blood Stage, however, was something much more memorable. Showcasing a mature style of death metal with excellent songwriting, rather than brutality for brutality's sake, the Glasgow quartet thundered through an all-too-brief half-hour that cemented their place as one of the best bands to play Bloodstock's New Blood Stage. There is a bit of room for improvement in the band's stage presence, however, as frontman Tony Mitchell seemed far more comfortable in his performance than bassist Chris Mancini and guitarist Peter Wall. A personal highlight from Blood Thread's set was the call to skin the Tory Party alive one by one, before diving into some Morbid Angel-meets-Immolation brutality. Plenty of pit action, plenty of riffs, plenty fun.
Verdict – 8.5/10
Order Blood Thread's newest EP, "Era of Corruption" here.
Soilwork – Ronnie James Dio Stage
Sweden's kings of melo-death, Soilwork, always deliver the goods. This is not just an opinion, it is an objective fact – they are one of the best live bands going. Though they have progressed from their pure melodic death metal roots, Soilwork are still true to the heaviness their early sound carried, and are far and away superior to their peers of the same era. Unfortunately, many of the big, hooky melodies Soilwork are known for were a little lost in the mix, leaving their set feeling a little incomplete. However, that aside they performed to near perfection, with Björn "Speed" Strid vocals more than making up for the lost melody. The Ride Majestic, The Living Infinite and Death In General were personal highlights for me – though it would have been nice to hear one of the rarities or new tracks from 2016's compilation "Death Resonance". Hopefully, they return for a full UK tour in the near future, but one thing is certain – they will always be a welcome addition to the Bloodstock line-up.
Verdict – 8/10
Order Soilwork's latest full-length, "The Ride Majestic" here.
Raze The Void – Hobgoblin New Blood Stage
Hitchin winners of the Metal 2 The Masses were the fantastic Raze the Void. When planning my schedule for Bloodstock, the plan was to catch the start of Soilwork, jump into the New Blood tent to see Raze The Void, then duck out to see the end of Soilwork's set. Unfortunately, I got a tad carried away during Soilwork and only caught the end of Raze the Void's set, much to my disappointment. What I did see of their set, however, was spectacular. Fantastically executed and epic in scale, Raze the Void offer a brand of melodic death metal that conjures images of Insomnium, Be'lakor and Opeth. Definitely one to watch, and a must-see next time they are in your city.
Verdict – 8/10
Order Raze the Void's latest EP, "Obsolescence" here.
Decapitated – Ronnie James Dio Stage
After a break for lunch and to refill my pint glass, it was time for one of the bands I was most looking forward to this weekend – Decapitated! With half their set being made up of tracks from the stunning new album, "Anticult", Bloodstock was a good opportunity to get a feel for the new songs in a live setting. Kill The Cult was a personal highlight from "Anticult", so getting to see it performed live was fantastic – it is set to be a real pit anthem during upcoming tours. While Decapitated are tight as a vice, and played with near-perfect execution, their set didn't seem to go down overly well with the Bloodstock crowd – plenty of cheers but a lack of mosh-pit action worthy of Decapitated. Other than the less-than-deserving response (and the lack of "Winds of Creation" material in the setlist), the Polish veterans once again delivered pure brilliance and proved why they are one of the most respected bands in the scene.
Verdict – 8.5/10
Order the new Decapitated album, "Anticult", here.
Testament – Ronnie James Dio Stage
Bay Area thrash legends Testament were another on my "must see" list. Returning to Catton Hall after five years, Testament were armed this time with "Brotherhood of the Snake" – a new show and a new album filled with absolute classic modern thrash anthems. I was starting to flag a little at this point, as I have the stamina of a morbidly obese sloth, so I decided to watch Testament from the benches at the Lemmy Bar. Apparently I wasn't the only one, as even though the Lemmy Bar is as far from the action as you can get while still having a decent view, there was plenty of headbanging, cheering and air guitaring going on – and much to the obvious frustration of one security guy, one fan climbing on the benches to air guitar despite being dragged off time and time again.
Testament's set had a healthy amount of variation, opening straight off the bat with three tracks from "Brotherhood of the Snake" before diving into some more old-school thrash classics. Although the new tracks commanded a respectable amount of action from the Bloodstock crowd, Into the Pit and Disciples of the Watch had some seriously enticing pits going on. Closing their set with the fantastic Formation of Damnation, Testament showed that though they may not have the gargantuan popularity of Metallica, or the cult status of Exodus, they are the true kings of Bay Area Thrash. Chuck Billy's vocals were a little weak in comparison to when they played Glasgow last year supporting Bloodstock headliners Amon Amarth, but Alex Skolnick and Eric Peterson proved they are still the masters of shred. A teasing announcement from Chuck Billy told us that we can expect Testament to return to UK shores later this year – hopefully to headline and showcase some more of the stunning new album!
Verdict – 9.5/10
Order Testament's latest album, "Brotherhood of the Snake" here.
Blood Oath – Hobgoblin New Blood Stage
Leicester's Metal 2 The Masses champions Blood Oath tragically clashed with Testament, and once again, I got a little carried away while Chuck Billy & Co. crushed the main stage. I did manage to catch about ten minutes of collective time during Blood Oath's set, however, and was blown away. With boots placed firmly in the "New Wave of Old-School Death Metal Camp," if that's a thing, the quartet offered up a very Swedish sounding slab of musical worship to Possessed, Grave, and Morbid Angel, with some Amon Amarth-inspired melodies chucked in for good measure. I'll be keeping an eye out for them playing here in Glasgow – I missed most of their set once, I'm not going to miss them again.
Verdict – 7.5/10
Order Blood Oath's debut full-length, "Kingdom of Dead Souls" here.
Shrapnel – Sophie Lancaster Stage
Much like the first wave did in the '80s, the retro thrash scene seemed to skip over the UK to a large extent. Our islands produced some fantastic thrash bands – Gama Bomb and Evile spring to mind immediately – but nowhere near the number of retro thrash bands that came to prominence in America. However, while the aforementioned have been a touch quiet lately, Norwich based thrashers Shrapnel are leading the charge. Due to grabbing some food, a beer and catching up with a few people, I missed a lot of Shrapnel's set, though we had a pretty good sound from where we were chatting. I regret not going into the Sophie Lancaster tent and getting a proper listen and catching the stage banter, because Shrapnel sounded as tight and blistering as they come. The new album is set to be killer!
Verdict – 8/10
Pre-order the upcoming Shrapnel album, "Raised On Decay", here.
Blind Guardian – Ronnie James Dio Stage
I have struggled to really get into Blind Guardian for some time. I absolutely love "Imaginations from the Other Side" and "Nightfall In Middle Earth", but many of their other albums have been a bit hit or miss. That said, however, there are few bands as epic in scale as Blind Guardian – and even fewer that bring that epic scale from the record to the stage so seamlessly. The band did, unfortunately, suffer a musician's worst-case scenario, with them landing in the UK for Bloodstock without their gear. Fortunately, the world's nicest Vikings Amon Amarth let them borrow theirs. Generous though it was, it still doesn't feel right to play another man's guitar on stage – that issue just makes how tight and generally fantastic Blind Guardian played all the more impressive.
With over half the set made up of tracks from "Nightfall in Middle Earth" and "Imaginations From The Other Side", I was in for a treat. Blind Guardian absolutely smashed it, dancing between thrashy, pit enducing riffs and epic, sing-a-long choruses with ease. Though the more recent material is a little soft for my liking, there is no denying that in a live setting these songs sound huge. The one-two hit of Nightfall followed by Mirror Mirror was a particular highlight for me. I doubted they would play it, but it would have been cool to hear their newest song, Children of the Smith (which was written for the new-ish PS4 game Dwarves' soundtrack). Truly something special to witness, I can't wait until I get the chance to see Blind Guardian again.
Verdict – 9/10
Order the new Blind Guardian live album, "Live Beyond The Spheres" here.
Amon Amarth – Ronnie James Dio Stage
I have a lot of love for Amon Amarth. I love their early, more old-school death metal oriented material, but I'm in the minority that prefer the more recent material. As a massive, die-hard fan of Iron Maiden, mixing the classic, early Amon Amarth sound with Iron Maiden inspired leads and melodies just spells perfection for me. Returning to Bloodstock for the fourth time since thier 2005 debut at the festival, this year saw Amon Amarth play their first ever festival headline slot in the UK. In an interview with Metal Hammer and teaser trailers in the build up to Bloodstock, Amon Amarth hinted at their set being filmed, possibly for use in a DVD. The headline slot came along with the biggest stage production the Swede's have had in the UK to date – and it was utterly jaw-dropping!
Opening with setlist mainstay (and possible title for the as-yet unconfirmed DVD) The Pursuit of Vikings, Amon Amarth had heads banging and horns flying from the offset. The Norse quintet went on to deliver a three-pronged attack from their newest album, "Jomsviking" – First Kill, The Way of Vikings, and my favourite track from "Jomsviking", At Dawn's First Light. And of course, The Way of Vikings would be incomplete without two of the band's stage crew hacking chunks out of each other while Johan Hegg growls away. "Josmviking" seems to be a bit polarising, with critics and long-time fans of the band either completely loving it, or utterly hating it – but whatever your opinion of the new material, there is no denying it absolutely crushes live.
Death In Fire is the oldest song that regularly features in Amon Amarth's setlist, and Bloodstock was no exception, with the "Versus the World" classic showcasing a far more brutal side to Amon Amarth than recent material displays. Though these songs haven't been played in a long time, and are much lesser known than anything from the last four or five records, it would have been really special to see Amon Amarth break out some more of the really heavy stuff from their early years – God, His Son and Holy Whore, For the Stabwounds in Our Backs and/or …And Soon The World Will Cease To Be would have been surprising but incredible additions to the setlist.
No Amon Amarth show is complete without, arguably, the band's two best known songs. The infectiously catchy Guardians of Asgaard closed the main portion of Amon Amarth's set, and was met with swinging hair, raised horns and a 15,000 strong crowd growling the lyrics back to the stage. Two massive Viking runes adorning the stage were set alight, giving a slightly evil aesthetic to the "Twilight of the Thunder God" anthem. With the talk of something special happening during their set, I wondered if perhaps Entombed/Entombed A.D vocalist Lars Petrov might be joining them to perform the section of Guardians… he sang on, but alas, no such luck. After briefly leaving the stage, Amon Amarth inevitably returned to perform their classic set-closer, Twilight of the Thunder God. Again, met with a massive crowd growling every word, Johan took his  Thor's Hammer and did battle with a giant (inflatable, I think?) version of Jörmungandr, much to the delight of the crowd.
Amon Amarth truly are death metal's answer to Iron Maiden. Inspiring a fanaticism in their fans, catchy songs coupled with tracks a little more complex and heavy, and a supremely entertaining, absolutely massive state show, it's easy to draw such a comparison. This may have been Amon Amarth's first time headlining Bloodstock, but I'd put good money on it not being their last.
Verdict – 10/10
Order the latest Amon Amarth album, "Jomsviking", here.
Bloodstock Day One – Band of the Day

Chosing a Band of the Day was a tough one – it was a very close toss up between Testament and Amon Amarth. But with a bigger show, and given the small issue with Chuck Billy's vocals, it has to go to Amon Amarth! May they return to pillage the UK soon!
Read our review for Day Two of Bloodstock 2017 here.
Read our review for Day Three of Bloodstock 2017 here.
Read our "Final Thoughts" of Bloodstock 2017 here.
How useful was this post?
Click on a thumb to rate it!
Average rating 0 / 5. Vote count: 0
No votes so far! Be the first to rate this post.
Related
About the author
This bearded wildman from North of the wall survives the harsh ever-present winter of Scotland on a healthy diet of thrash, death metal and beer.