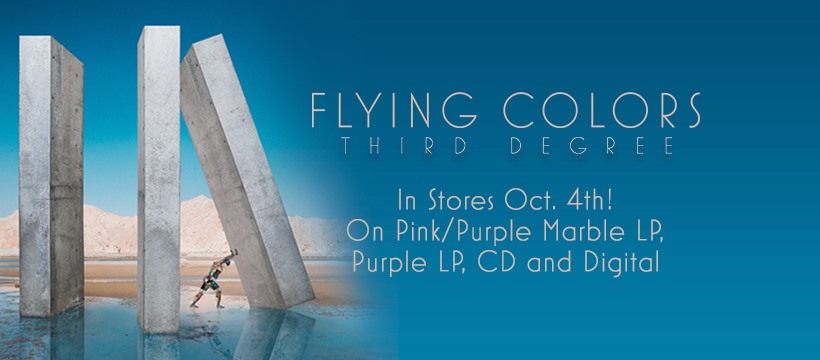 Flying Colors – Third Degree
1st October 2019
0
By
John Deaux
Just when you think you've heard every conceivable way music can be experienced on CD, something comes along that completely defies belief. 
A couple of years ago I raved about the live album Second Flight from Flying Colors for it's incredible sound and the headphone surround sound that out you firmly in the front row. The same company (HPRAR  – "Harmonic Phrase Analysis and Restoration) that produced that phenomenal sound for that live album have produced amazing fidelity that  is second to none for this audio release. Bill Evans is to Flying Colors what Magic Alex was to Pink Floyd. 
I have to say that this is the closest digital recording that rivals analog. It's that good. 
Now onto the music itself. The album starts with  a heavy and proggy track , The Loss Inside. What an opener and a banger of a tune. Mike Portnoy (drums) is on fire, Steve Morse (guitar) is mind altering, Neal Morse (keyboard) is on point and understated and the rumbling bass from Dave Larue is just knee trembling. Add the vocal from Casey Macpherson, it's a perfect opener and it continues onto the 2nd track, More.
The next track, Cadence, took some perseverance to get into it as I initially skipped it. It's got a folkish renaissance tinge to it and totally not what I was expecting. Thankfully the' hey nonnie non' feel gives way to some great blues guitar from Steve and the track enters a more ethereal phase. 
Guardian is up next and harks back to 80's pop. A total feel of Hall and Oates mixed with Abacab era Genesis. Not one of my favorites and along with the single You Are Not Alone are definitely the week parts of this record for me.
Geronimo is another oddity. Mixing jazz fused with heavy prog. This shows a proper maturity in their work and also how comfortable they've become together as musicians. 
Love Letter is exactly what you think it will be .. A happy little ditty that could've been written for a segment in the TV show Friends or a really cheesy chick flick.
The final track, Crawl solidifies the notion that Flying Colors should no longer be categorized as a super group even tho collectively the musicians are in over 8 bands between them.
Thanks to the production value of this album it sounds rich and luxurious. You'll wish all digital music sound as good as this one and if you love your prog rock technical with some heaviness mixed with really melodic hooks, Third Degree is for you.
Score 7/10 (based on the standard edition)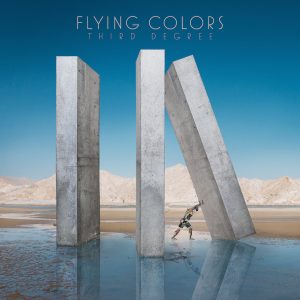 Track Listing
1. The Loss Inside
2. More
3. Cadence
4. Guardian
5. Last Train Home
6. Geronimo
7. You Are Not Alone
8. Love Letter
9. Crawl
Deluxe CD Bonus Disc
10. Waiting For The Sun (Bonus Track)
11. Geronimo (Alternate Instrumental Version)
12. You Are Not Alone (Alternate Instrumental Version).
13. Love Letter (Alternate Instrumental Version)
14. Last Train Home (Alternate Instrumental Version)
15. Crawl (Alternate Instrumental Version)
Release Date
4th October 2019
Label
Mascot
For all things Flying Colors, click HERE and to purchase the album, click HERE
How useful was this post?
Click on a thumb to rate it!
Average rating 5 / 5. Vote count: 1
No votes so far! Be the first to rate this post.
Related
About the author
Some say Yank My Doodle, It's A Dandy! is a biographical movie based on John. Some have even said that his favorite artist is Chesney Hawke! All we really know is he sleeps inside out and his hair tastes like candy floss.