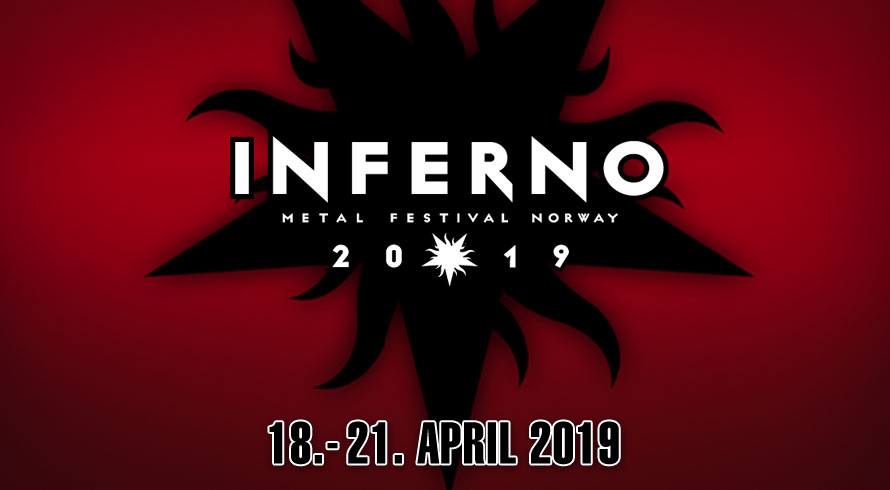 Inferno Metal Festival Norway 2019 – Day 2 Review
27th April 2019
2
By
Queen Nikki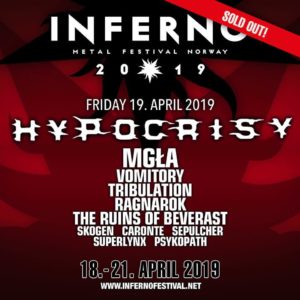 There is always at least one day of Norway's Inferno Metal Festival where someone buys you way too many afternoon beers. Next, you find yourself having shots with one of the head-lining acts and you become deeply involved in conversations with very questionable subject matter. Your comrade has been speaking to you only in Swedish for the last hour and you haven't even noticed. Then suddenly you realize you've been swept up in the beautiful mess that I like to call, The Inferno Time Vortex! I'm not going to lie about it, today was that day.
I started day two early and full of hope arriving at the festival hotel, Clarion Hotel the Hub, to join in on the Inferno Music Conference. The Conference collects some of the biggest names in the Norwegian metal scene and International industry professionals all under one roof. This year they joined in for music clinics, panel talks, wine tasting with Satyr of Satyricon, beer tasting and the official Inferno metal auction. There was even a big day out at one of the largest group sauna's in the world, only in Scandanavia! On this day, I attended a panel talk with speakers both from Metal Hammer and a main Norwegian newspaper, Aftenposten touching on why magazines aren't dead yet. Which proved for an interesting subject given my part in the industry. We came to the conclusion that its mostly the older crowd buying printed media and we don't know what will happen when they die out! (I slide down into my chair as I type this to be uploaded to an online site.)
Hours are lost in the vortex somewhere between drinking bloody Marys on the roof of the hotel, admiring the view of the Oslo fjord and walking to the venue getting dragged into different bars along the way. Eventually making it for the last few songs of death metal icons, Vomitory to play to a well lubricated audience. After officially reforming in 2018, you could feel the eagerness from the younger folks who were seeing them for the first time. They play Swedish death and today they played with so much rectitude, it felt like they'd never been apart. A seriously fiery set, full of old goldies, they've managed to keep that old school sound safe, lets hope for more years to come. Long live Vomitory! The queue to get into the basement was now merging into the merch queue, which I guess was a good thing for Swedes, Skogen, who we weaseled our way in to see. By mid set, the crowd had settled in, they perform for us, although black metal in essence, their textured sound is steeped in Folk influences. Skogen aren't scared of clean singing either, Mathias Nilsson's notes are executed with structure and poise, while the dark growls of Jocke Svennsen keep their sonority grounded. A varied range of fearless and well produced songs with the confidence to shine even if they were playing to an empty room.
Mgła is a band I will never be able to pronounce correctly, or see, over the immense crowd that was gathered in front of the main stage to see them. Hailing from Krakow, they have become quite the household name in the black metal community over the almost two decades they've been kicking around. They don't need fancy visuals or erratic stage movements, their music is their performance. Leather jackets, hoods and full faced masks leave everything to the imagination. They enchanted us through a few from the Exercises in Futility, Groza, With Hearts Toward None albums and even the South American pit lords down the front didn't dare start for this, all eyes were on the stage.
In the dungeon, we had baileys coffees and settled in for the masterpiece that is German musician Alexander von Mielenwald and his highly acclaimed band, The Ruins of Beverast. Alexander's vocal techniques are frankly haunting as the John Dee chamber fills with smoke. The bands live members worked together to create the rapturous sound that Alexander originally envisioned in his studio work. The atmosphere is amplified by the harrowing silence left between songs and only adds to the eeriness. The fact that they were the talk of the festival, comes as no surprise.
Now time for some more madness, Swedish Death metal legends, Hypocrisy take Inferno by the balls for the first time. Peering down from my 'safe spot' on the balcony railing, I had a great view of below as well as the synchronised head banging from the band members. Horns were held high as they tore straight into a high energy set and the pit truly opened up during Valley of the Damned. Peter Tägtgren's vocal chords have really kept their strength over the years, he is a demon one minute and screaming like a banshee the next! An absolutely worthy headliner for day two.
Retrieving my memory of the rest of the evening has been like trying to get blood from a stone. Apparently it involved begging for food, carrying guitars from the venue to the hotel, where I assume a group of us punished other festival goers at their after-parties with probably even more questionable conversations. Chugging mini bar wine from the bottle, hiding in corners as we narrowly escaped the grasps of security constantly warning us to go to bed!
All in all, I'd say that was a bloody good Friday!
To catch up with Nikkis Day 1 review, click HERE
How useful was this post?
Click on a thumb to rate it!
Average rating 0 / 5. Vote count: 0
No votes so far! Be the first to rate this post.
Related
About the author
"It does not require a majority, but an irate, tireless minority, keen to set bushfires in people's minds." Hail Satan!