Mister Misery- Unalive
11th September 2019
New kids on the Stockholm block, Mister Misery, release their debut album Unalive on 4th October 2019. Fresh from the Stockholm new wave of goth/hair metal scene these boys are as new as they come. Founded only in Feb 2018 by Vocal/Guitarist Harley Vendetta and Guitarist Alex Nine they have hit the scene with their hook laden brand of schlock horror metal. Soon catching the attention of Arising Empire records they are now preparing themselves for the release of self produced, Unalive. 
Claiming to represent feelings of loss, abandonment and reflective of the bands own views on themes such as suicide, the album takes the listener on a more theatrical and alternative musical journey. Reminiscent of the early 80s stage shockers such as Motley Crue and W.A.S.P, Mister Misery portray themselves in a vampiric freakshow image creating an almost vaudevillian metal nightmare. But is Unalive any good?
Well actually yes it is. Album opener The Blood Waltz has sufficient dark and freakish pomp to grab attention, competently propped up with big chunky riffing, deep thunderous rhythm and sweet soloing. Followed swiftly by You and I the pace is increased before pulling things back for the effervescent chorus. For me however the best track on the album comes next. Tell Me How is a superbly written power pop tune with the band showing restraint and composure. The same cannot be said however for the ludicrous single My Ghost which whilst clearly demonstrating the band's theatrical leanings and showmanship I just cant get behind it.
Legion however is a thunderous effort verging on true Metalcore in its delivery, another great track with solid performances and structure. The rest of Unalive continues down the same dark and twisted path; though competently performed throughout.
But lets be honest, this is niche music. The band are clearly talented and are looking to stand out from the crowd. They have landed themselves a pretty neat record deal and have a successful booking company behind them in Contra Promotions (Anthrax and Nightwish) so things are looking good.
For me though Mister Misery are just a bit too much; aimed at the quirky but disenfranchised youth (who probably dine out on copious amounts of Tim Burton) I guess I am just a bit too old and grumpy to be charmed by this brand of teeny-bop metal pop. Its Marilyn Manson without the 'Manson', Rob Zombie without the…you can see where I am going. But as a debut album it is good and I think Mister Misery, if the forces of evil are on their side, will sink their teeth into the bloody prize they so seek.
Score 6/10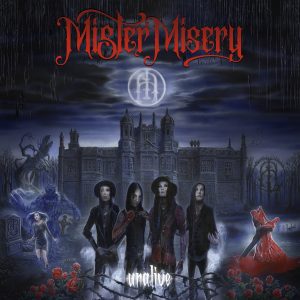 Tracklist
01. The Blood Waltz
02. You And I
03. Stronger
04. Rebels Calling
05. Legion
06. Tell Me How
07. My Ghost
08. Dead Valentine
09. Alive
10. Live While You Can
Label–
Arising Empire
Release Date-
4 October 2019
For all things Mister Misery, click HERE and to purchase the album, click HERE