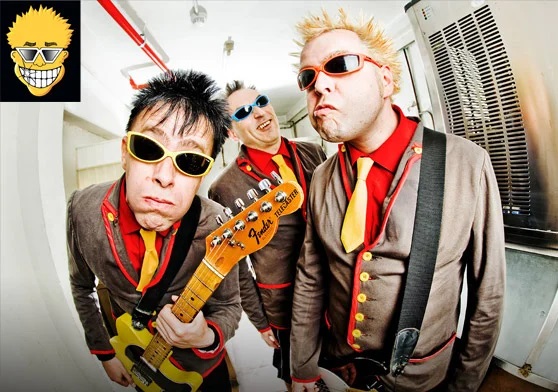 Toy Dolls: The Albums – 1989-1993, 5CD – Review
13th August 2021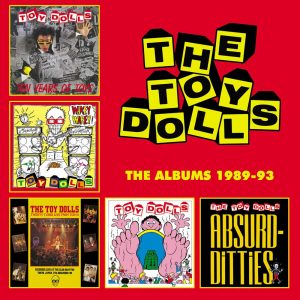 It's been a little over 3 years since the last Toy Dolls box set and this one doesn't disappoint either.
A live album, a re-recorded hits album as well Absurd- Ditties, Fat Bob's Feet and Wakey Wakey.
Once again this album is full of absolute belters. From There's a Trollop Up Elwood Street through to Dez The Demon Decorator, every disc is chock-a-block of gut busting humor that only the Toy Dolls can produce. 
All the albums show off Olgas guitar prowess that was a massive surprise to all. Their takes on classics such as Drooling (Duelling) Banjos, Sabre Dance and Tocatta in Dm prove this.
As per usual the packaging is superb. A really nice, strong clamshell box, tremendous liner notes with rare phots and the CDs are housed in replica original artwork sleeves. 
The Toy Dolls
are the band
Blink 182
wish they were. 
Normally when a band release a best of, just lift the versions from the albums. Not the dolls tho, every track has been re-recorded and sound amazing with modern(ish) production.
The live album recorded in Tokyo is an absolute blast, literally. 22 tracks in just 60 minutes, that's almost Ramones speed 
A perfect companion to the last box or even on its own. A must have.
Score 9/10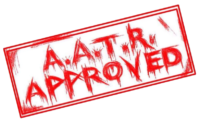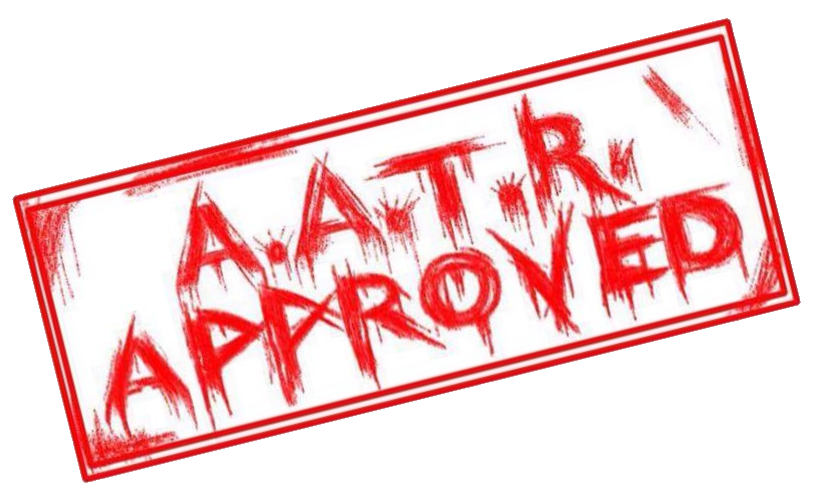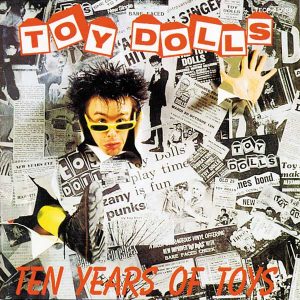 DISC ONE: TEN YEARS OF TOYS
1. FLORENCE IS DEAF (BUT THERE'S NO NEED TO SHOUT)
2. GLENDA AND THE TEST TUBE BABY
3. IDLE GOSSIP
4. CAROL DODDS IS PREGNANT
5. TOMMY KOWEY'S CAR
6. PETER PRACTICE'S PRACTICE PLACE
7. DEIDRE'S A SLAG
8. BLUE SUDE SHOES
9. DIG THAT GROOVE BABY
10. LAMBRUSCO KID
11. DOUGY GIRO
12. BLESS YOU MY SON
13. MY GIRLFRIEND'S DAD'S A VICAR
14. SHE GOES TO FINOS
15. HARRY CROSS (A TRIBUTE TO EDNA)
16. FIERY JACK
BONUS TRACK
17. I'VE GOT ASTHMA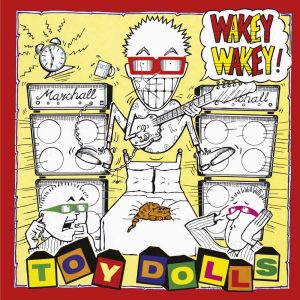 DISC TWO: WAKEY WAKEY WITH THE TOY DOLLS
1. INTRODUCTION
2. WAKEY WAKEY INTRO
3. LESTER FIDDLED THE TAXMAN
4. POT BELLY BILL
5. ONE NIGHT IN MOSCOW (& WE'LL BE RUSSIAN HOME!)
6. CLOUGHY IS A BOOTBOY
7. SABRE DANCE
8. DAVEY'S TOOK THE PLUNGE
9. THERE'S A TROLLOP UP ELMWOOD STREET
10. NO PARTICULAR PLACE TO GO
11. POVERTY PLEADIN' PETER
12. BLAZE OF THE BOROUGH
13. WAKEY WAKEY OUTRO
14. GOODNIGHT IRENE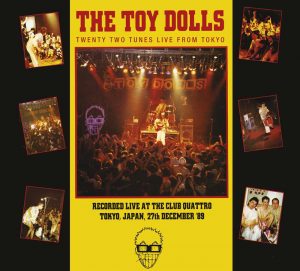 DISC THREE: TWENTY TUNES LIVE FROM TOKYO
1. WAKEY WAKEY INTRO
2. DIG THAT GROOVE BABY
3. CLOUGHY IS A BOOTBOY
4. LAMBRUSCO KID
5. I'VE GOT ASTHMA
6. PETER PRACTICE'S PRACTICE PLACE
7. DEIDRE'S A SLAG
8. ASHBROOKE LAUNDERETTE
9. BLESS YOU MY SON
10. MY GIRLFRIEND'S DAD'S A VICAR
11. SPIDERS IN THE DRESSING ROOM
12. POPEYE MEDLEY
13. SHE GOES TO FINOS
14. FISTICUFFS IN FREDERICK STREET
15. HARRY CROSS
16. GLENDA AND THE TEST TUBE BABY
17. WAKEY WAKEY OUTRO
18. WHEN THE SAINTS
19. WIPE OUT
20. NELLIE THE ELEPHANT
BONUS TRACKS
21. SABRE DANCE
22. BLUE SUEDE SHOES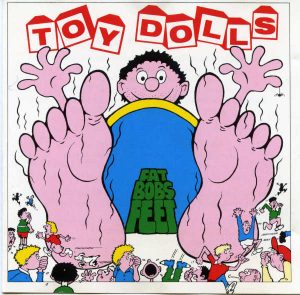 DISC FOUR: FAT BOB'S FEET
1. GLOOMY INTRO / TOY DOLL TONIC
2. FAT BOB'S FEET
3. WE QUIT THE CAVALRY
4. THE SPHINX STINKS
5. RODNEY'S MEMORY
6. OLGA CRACK CORN
7. BITTEN BY A BED BUG!
8. KIDS IN TYNE & WEAR
9. FRANKIE'S GOT THE BLUES
10. A BUNCH O' FAIRIES
11. YELLOW BURT
12. BACK IN '79
13. THE COPPERS COPT KENS CASH!
14. TOY DOLLS TONIC / GLOOMY OUTRO
BONUS TRACKS
15. TURTLE CRAZY
16. TURTLE CRAZY (JOIN IN MIX)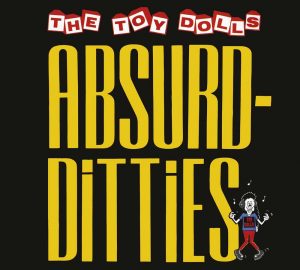 DISC FIVE: ABSURD – DITTIES
1. ABSURD-DITTIES
2. I'M A TELLY ADDICT!
3. TERRY TALKING
4. ERNIE HAD A HERNIA
5. TOCCATA IN Dm
6. MY WIFE'S A PSYCHOPATH
7. SOD THE NEIGHBOURS
8. MELANCHOLY MARGARET
9. DROOLING BANJOS
10. ALEC'S GONE
11. WHEN YOU'RE JIMMY SAVILLE
12. CAUGHT UP IN THE REEPERBAHN!
13. DEZ THE DEMON DECORATOR
14. ABSURD-DITTIES (END BIT)
Release – 20th August
Label – Captain Oi!
For all things related to The Toy Dolls click HERE  and to buy the box set, click HERE