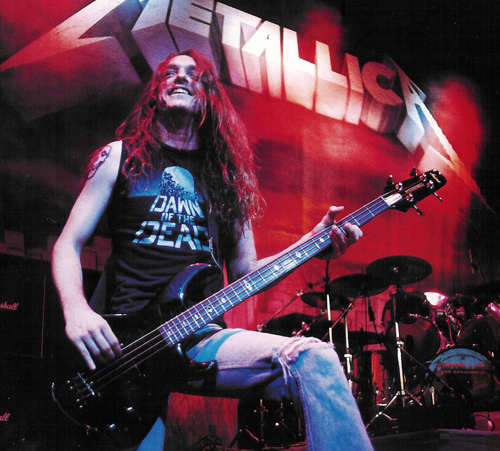 A tribute to Cliff Burton
27th September 2013
0
By
Howard 'H' Smith
27 Years Ago Today…..
I heard the news that Cliff Burton had died.
I was at school and a friend told me. I couldn't believe it. I'd met him last week at Sheffield City Hall, he signed my T-Shirt, I gave him a demo of my band!
What gets forgotten is that Metallica was THE band of young metallers (not glam fans) of the time. They weren't that much older than us, they didn't give a shit, they hated glam, they were our mates. For some of us losing Cliff was our earliest experience of grief. We didn't know it at the time but that is what we were experiencing. How could it be possible that this huge flare wearing, mop of hair livewire that we'd seen just a week previously was not with us anymore? I clearly remember a feeling of emptiness, not knowing what to do, not being able to understand all of the things I was feeling.
Let's also remember that there was no internet back then so news was patchy at best and everyone was scrambling for details, even confirmation, as some decided it was just a stupid rumour no doubt started by some glam fan somewhere. We'd later come to understand this reaction as denial.
No such luck, it was true and the metal community lost one of its pioneers. Metallica were breaking boundaries with every album and Cliff was at the heart of it, he was more than a bass player he was (an overused word in today's world) an icon.
27 years ago today Metal lost a legend, music lost an icon and all us young metallers lost a friend.
Gone but never forgotten.
Cliff Burton RIP.
Howard "H" Smith
27th September 2013
How useful was this post?
Click on a thumb to rate it!
Average rating 0 / 5. Vote count: 0
No votes so far! Be the first to rate this post.
Related
About the author
Howard is better known both as Howard 'H' Smith, the lead singer from UK Thrashers Acid Reign and also as his comedy alter ego 'Keith Platt'. During his careers he has been on tour with Nuclear Assault, Flotsam and Jetsam, Death Angel, Exodus, Dark Angel, Candlemass and Suicidal Tendencies and has graced the comedy stage at Download festival more than once.