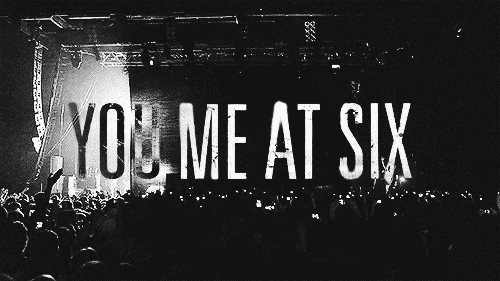 You me at six 23rd October Leeds
26th October 2016
Oh you me at six….where to start….so in my usual build up to watch my favorite band we started with a few (lots of) drinks once we got to Leeds and checked in to our hotel. Then before we knew it, the time was here. The sheer anticipation had been killing me despite being less than enthusiastic over the new material but I finally got to see the guys again so didn't care!
As soon as we got into the venue and finished pissing about with queues and making sure everyone's glass was suitably topped up we headed right to the front with my best mates secret routes. I was pretty convinced she was taking us the wrong way but we got there and it made me love her all the more.
The last time I saw them they came out to "The Swarm" which was an absolute banger to start off with and the crowd of screaming teen girls went crazy with excitement! This time, they started with "When we were younger" which is nice but just nice. I didn't want to hear a bloody "nice" song I wanted them to come out jumping with the youthful exuberance that I love whereas I feel as though the newly sported beards sucked all that was fun and vibrant out of them from the outset.
Straight after, the quintet went straight into "Bite my Tongue" my absolute favorite song which lifted my spirits and by the looks of it, lifted the rest of the crowd. Speaking to various people outside and inside the venue everyone seemed to love the album "Sinners Never Sleep" more than any and I had all of my fingers crossed that they would continue with this. Then they played "Fresh Start Fever"…..
The tone continued from song to song, flitting between pop, pop punk and this new sound which has such a radio friendly sheen to it I just can't enjoy it properly. It kills me to say it but the stylistic changes seem to have made the band totally disassociated from the usual ironic posturing and punk rock tempos, they didn't even play "Save it for the bedroom".
Overall the gig was amazing since I got to spend a great night with great friends and heard a few great songs but it seems that YMAS have bordered more along the "careful" side of music which wasn't helped with how preachy Josh Franceschi got when he subjected us all to his antiquated rant about American politics. Usually this stuff has me lapping it up in true punk rock stick it to the man fashion but it was really quite boring.
The older songs played were consistent with catchy pop punk hooks, distorted electric guitars, power chord changes and that authentic YMAS sound. The new, made it glaringly obvious that the You Me At Six which we all love are gone and these bearded imposters have taken their place. Ahh well, you "Win Some, Lose Some".
Set List
When We Were Younger
Bite My Tongue
Fresh Start Fever
Loverboy
Safer to Hate Her
Stay With Me
Little Death
Plus One
Reckless
Forgive and Forget
Lived a Lie
Swear
Win Some, Lose Some
Underdog
Too Young to Feel This Old
Encore
No One Does It Better
Room to Breathe
Night People