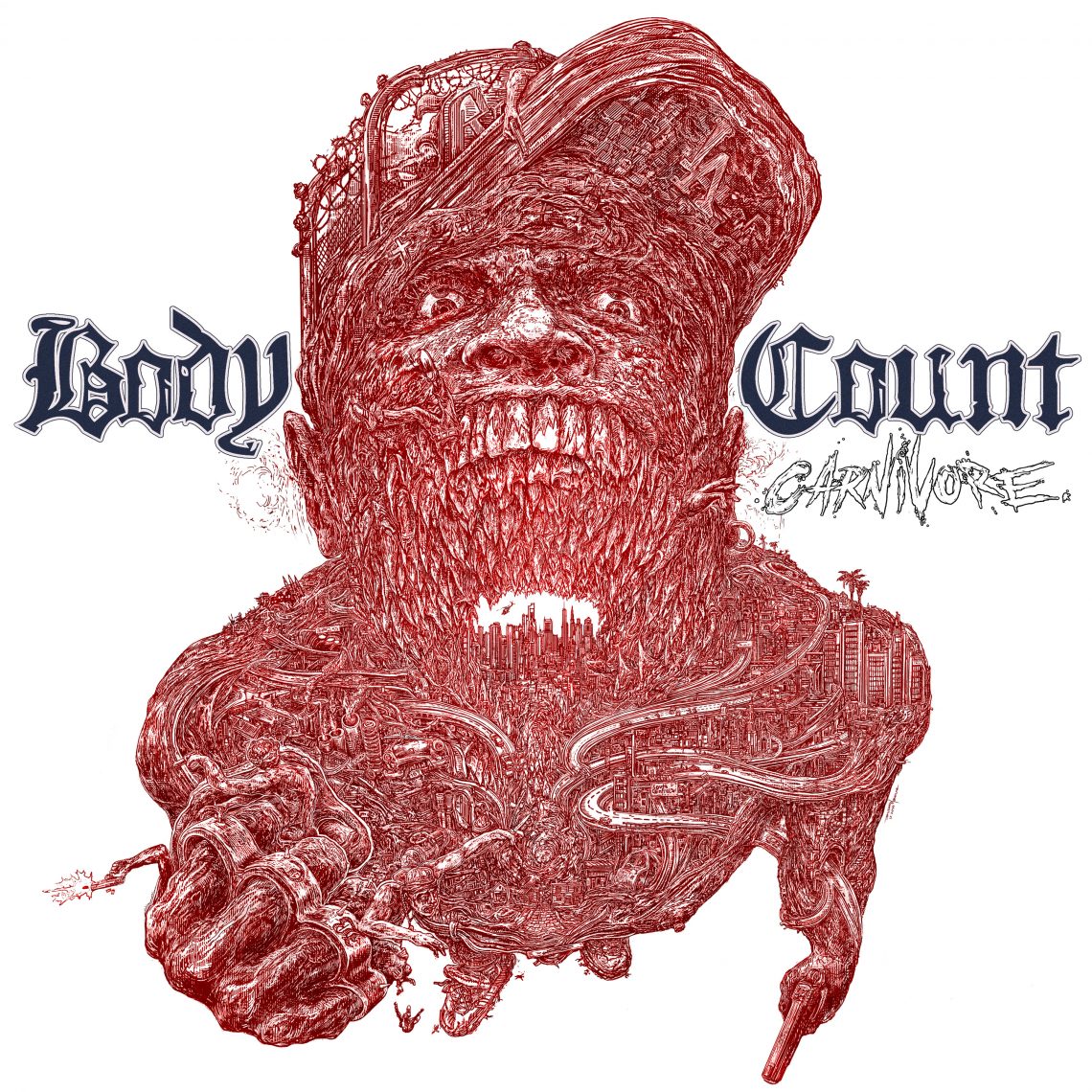 Body Count – "Carnivore"
19th March 2020
The last time I talked about rap and hip-hop in any capacity, I was left genuinely perplexed following my review of SCARLXRD's album "Infinity"…the culture clash was so strong within the trap/metalcore crossover I was tempted to report Scarlxrd for hate crime's towards BOTH demographics! But while his style was and is unique, he's far from the OG…that belongs to MC Lipton himself; ICE-T.
Ice-T (Real name Tracy Marrow) began his career in the early 80's on the underground scenes of New Jersey, before finally getting his big break for Sire Records in 1987, though, while a platinum and gold selling rap artist, he never denied his fondness and appreciation for metal.
After a couple years having established himself as one of hip-hop's hottest properties, he allowed himself to quench his thirst for something harder and heavier, by forming the crossover group BODY COUNT. However, far from a novelty project to get it out of his system, the group (Completed by guitarists Ernie C and Juan Of The Dead, bassist Vincent Price and drummer Ill Will) still continue to this day, and have recently released their 7th studio album entitled "Carnivore". The question is, is it worth sinking our teeth into?
We open up with the title track and the gradual build of guitar, backed with distant police sirens allows for a somewhat anxious, intense introduction, you can sense some shit's about to go down, before we tear into the track properly courtesy of some truly beastial snarls. The chugging riffs have an almost nu-metal vibe to them in places, while the track itself is quite methodical, musically plodding along, though those growls, despite the minimalist chorus are effective.
Ignoring the slower pacing of the opening track we have a couple of highlights to enjoy here, starting with lead single "Bum-Rush", which incorporates a far more energetic tempo, utilising a great sense of rhythm and a simple yet effective hook. The hard rock / speed-metal style of the instrumentation, coupled with a genuinely sleek guitar solo compliment Ice-T's bullet-pointed vocal style effectively, with the track as a whole being presented very well; this is good.
Speaking of speed metal and hard rock, we have a really interesting cover of MOTORHEAD's "Ace Of Spades" included in the track-list and it's been recorded as a tribute to Lemmy, who Ice cites as an influence. As covers go, musically it's pretty on point with only subtle differences noticeable instrumentally, they've stayed pretty true to the original credit to them, though naturally, vocally Ice is no Lemmy, he doesn't sound like he's smoked 70 Marlboro a minute and used gravel for mouthwash.
As well as covers we get a couple of collaborations to spice things up, starting with "Another Level" featuring Jamey Jasta of HATEBREED. We slow things right down here, returning to a more methodical, regimented pacing, which negates its own title in a sense…there's nothing truly elevated about this track in all honesty, it's quite middle of the road. Things get more interesting however on "When I'm Gone"…a tribute to rapper NIPSEY HUSSLE who was murdered while this album was being written and recorded. The added sentiment makes for a more meaningful track, but it benefits from the inclusion of EVANESCENCE's own Amy Lee, who provides duel vocals. The sudden switch in tone, range and style allowing for some variety in sound and it stands out as a result, resulting in another album highlight.
Other than this, the album tends to stay within its own comfort zone, sticking to a formula of traditional heavy metal and thrash-inspired instrumentation, which is admittedly done well, but Ice-T is sadly a little too one-dimensional vocally to take the tracks out of 2nd and 3rd gear. He's got his style of lyrical delivery, like I stated earlier he can be quite bullet-pointed, let's be honest he's not the slickest of rappers; he's hardly BUSTA RHYMES or EMINEM when it comes to flows, but he's more than capable of holding his own. 
Luckily, unlike with Scarlxrd, this approach to blending an old-school hip-hop mentality with early thrash works, as in terms of sound, the styles manage to compliment each other somewhat, as opposed to sounding like a mental breakdown. Other than that, it's a fine crossover-style album that benefits from not trying to sound too fancy or forced, and it has some decent cuts. Album number seven is in the b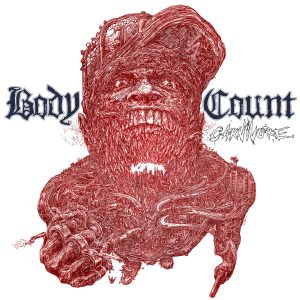 ag…and the body count rises.
Albums Score: 6/10
Record Label: Century Media
Release Date: March 6th 
Track List:
"Carnivore"
"Point The Finger"
"Bum-Rush"
"Ace Of Spades"
"Another Level"
"Colors"
"No Remorse"
"When I'm Gone"
"Thee Critical Beatdown"
"The Hate Is Real"
"6 In Tha Morning" (Bonus Track)