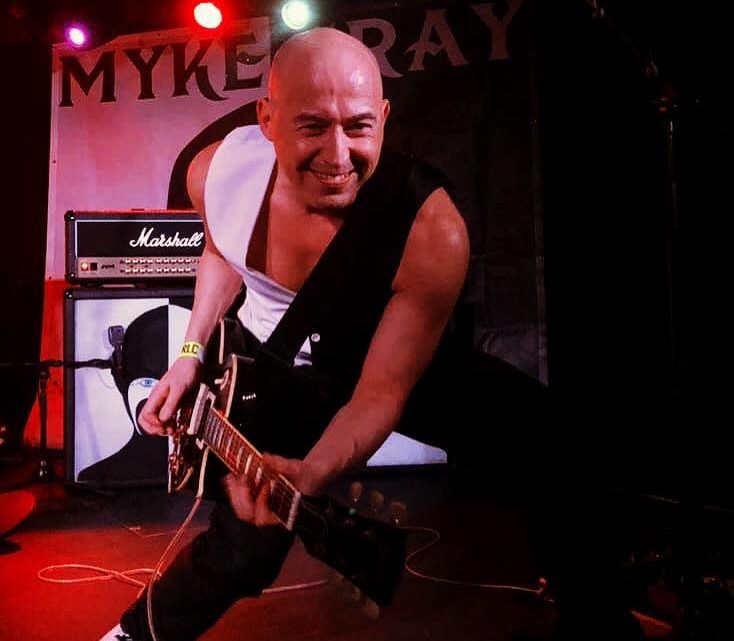 Myke Gray feat Kim Jennett – Bannermans – Edinburgh 1st March 2020
2nd March 2020
3
By
John Deaux
Despite the cold wintry evening and also it's a Sunday, the live room in Bannermans is warm and cozy.  Thanks to the packed space awaiting the arrival of Jagged Edge/Skin guitarist Myke Gray.
This warmness continued with a blistering performance from the support act Beth Blade and the Beautiful Disasters. 
The last time Beth Blade and Co had graced Bannermans with an appearance was way back in 2017 when they supported the amazing, Marco Mendoza. Since then Beth Blade and the Beautiful Disasters have put out another album (Show Me Your Teeth) and tonight Edinburgh got a few tracks from the album on Spinal Tap level volume (it went to 11).
The band were on fire and Beth was giving it her all to get this Edinburgh rabble warmed up for Myke Gray. Tracks such as Jack and Coke (in honor of Lemmy) Hell In High Heels, Down and Dirty along with You and I sounded huge. A great opening act. They certainly gave it all they've got. 
Myke Gray really needs no introduction at all. A phenomenal guitarist and songwriter as well as being a talent in NWOCR bands Red White and Blues, Jagged Edge and Skin.
Kim Jennet was providing the vocals tonight and her tracks Psycho and Let Me Be The One were outstanding and slipped in reanny nicley with the set that was 90% Skin orientated. Not a bad thing as they're all pretty bloody good (House Of Love, Look But Don't Touch, Take Me Down To The River, and Tower Of Strength to name a few). 
This is the 2nd time I have seen Kim Jennett singing with Myke Gray and band (1st time was Hard Rock Hell 2018 and I was expecting an instrumental set from Myke. Thanks to the release of Shades of Gray ), this time I was a lot more prepared for what to expect.
Tonight was the last night of the tour and Kim had pretty much all but lost her voice, BUT that didn't stop her at all. Had she not stopped to talk, you wouldn't have known her voice was pretty much trashed. She sounded amazing, did a bang up job of getting the crowd singing and helping her out. She was outstanding.
Myke very briefly took over singing duties for the  track  I Get Up, which has been doing the rounds on rock radio of late. An absolute banger of a track. The crowd lapped it up and sang along with great aplomb. 
I have personally walked away broken and a bit of a sore throat. If I'm in this state, gawd knows what the bosses are in store for on Monday morning.
A bloody brilliant night of Rock n Roll from 2 great bands filled with superb musicians. Can't wait to do it all again.
 Myke Gray Set List
(Intro Tape – Queen We Will Rock You)
Stand Up for Rock 'n' Roll (Red White & Blues song)
Let Me Be The One
Love Like Suicide (Skin song)
Psycho
House of Love (Skin song)
Stronger
Counts For Nothing (Red White & Blues song)
Colourblind (Skin song)
Take Me Down to the River(Skin song)
Look But Don't Touch (Skin song)
Tower of Strength (Skin song)
Shine Your Light (Skin song)
Encore:
Tripping (Skin song)
You Don't Love Me
I Get Up
Take me Home

How useful was this post?
Click on a thumb to rate it!
Average rating 5 / 5. Vote count: 1042
No votes so far! Be the first to rate this post.
Related
About the author
Some say Yank My Doodle, It's A Dandy! is a biographical movie based on John. Some have even said that his favorite artist is Chesney Hawke! All we really know is he sleeps inside out and his hair tastes like candy floss.